Letter formation | Letters and Sounds Assessment | Letter Sounds Worksheets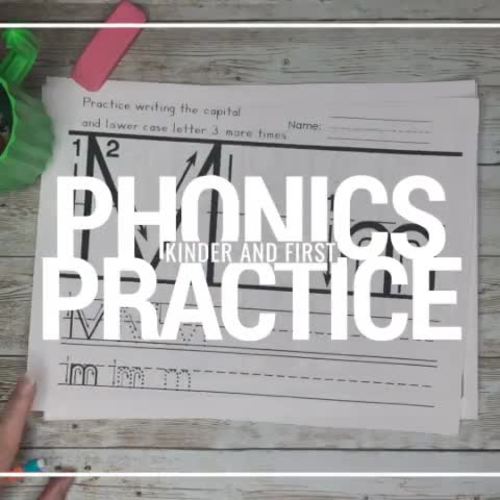 ;
What educators are saying
These were a great addition to help my students who are returning from virtual learning and are lacking in knowledge of writing letters.
It was just what I was looking for as we reviewed our letters and sounds. I like the different options it offers.
Also included in
This bundle has been created to give you everything you need to get your kiddos forming letters correctly and identifying letters and sounds. Sound Letter Recognition: Do you need a resource that will help with letter formation and letter sounds on a daily basis? This resource starts with whole gro

Price $7.04

Original Price $11.00

Save $3.96
Description
These worksheets cover Letter formation Practice and also has tons of practice with letters and sounds Phonics Worksheets. These phonics worksheets start with whole group instruction discussing formation of letters and letter/sound correspondence, then moves to guided, then independent work. It is great for the first few weeks of first grade, or the last part of kindergarten.
►Check out my blog to read all about it.

This resource helps with figuring out what sounds students know, what letters they can form, and what sounds they can put together. This product covers handwriting, letter recognition and sound recognition for each letter of the alphabet.
► HOW IT WORKS:
The first sheet of each letter is a skywriting activity for the capital and lower case letter and then the students have to write the capital and lower case letter five times.
(GUIDED) On the second page of each letter, students have to circle the picture the teacher calls out if it begins with the letter of the day. There is also a place on this page for students to practice writing the letter again.
(INDEPENDENT) On the third page of each letter, students have to write the capital and lower case letter of the picture the teacher calls out, if the picture begins with the letter of the day.
On the fourth page of each letter, students have a coloring page of the letter they can do while waiting for the teacher to check the independent practice page. I've also added a color-by-number page for each letter.
Also included is a homework sheet for each letter of the alphabet as well as weekly assessments.
ASSESSMENTS - Also comes with several assessment sheets that you can do at the end of the week.
Comes with an Answer Key so that you can call out the words to the students (or your sub or student teacher can as well).
SLIDESHOW: Comes with a PPT/Google Slideshow that has an animated GIF of the letter being traced so you can show the students from the board
► I use this for my first graders as a quick review and it really gives me a reliable snapshot of each of my student's knowledge in phonemic awareness and letter/sound recognition.
►**This product was not created to be used as a center or as independent work. BUT it could be used for home learning for parents to help their students.
► QUESTIONS OR CONCERNS
Email me at scjuneau@yahoo.com if you have any questions or concerns about this product.
► WHO LIKES A DEAL?
Thank you for visiting my store! Please contact me if you have any questions!
I SURE APPRECIATE YOU!
Shanon Juneau ❤️
#FB2022backtoschool
Teaching Duration
Lifelong tool
Report this resource to TPT
Standards
to see state-specific standards (only available in the US).
Print all upper- and lowercase letters.