Life Cycle of Animals | Augmented Reality Fliphunt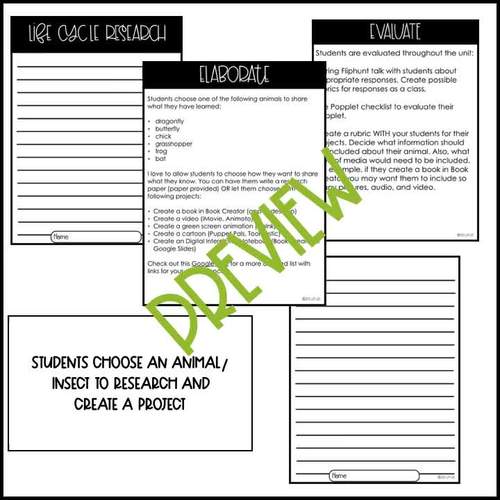 ;
Also included in
Are you looking for a fun and engaging way to teach life cycles to students? These science units are the perfect companion for your life cycle units.Who would LOVE this product?Teachers who need ideas for teaching life cycles in their classroom. What is included in this bundle?This bundle includes 3

Price $12.00

Original Price $17.00

Save $5.00
Description
Are you looking for a fun and engaging way to teach life cycles in your classroom? This life cycle unit is the perfect companion for your science lessons.
Who would LOVE this product?
Teachers who need ideas for teaching science concepts in your classroom. Students learn how to read, write, and demonstrate understanding of life cycles of animals through a unique augmented reality fliphunt.
Your students will enjoy learning about life cycles through this unique fliphunt using augmented reality. In this 30 page product, you will receive a scavenger hunt of 11 cards students will scan to learn more about the following animals/insects: bats, butterflies, grasshoppers, dragonflies, chicks, and frogs. There is also a recording book for students to write what they have learned about metamorphosis and the life cycles of these animals/insects. Included are ideas for students to do research and projects to synthesize the learning.
What is included in this unit?
This packet includes includes 11 cards students scan to learn more about the following animals using the app Flipgrid:
life cycle of a bat
life cycle of a butterfly
life cycle of a grasshopper
life cycle of a dragonfly
life cycle of a chick
life cycle of a frog
Receive a graphic organizers for recording what they learn about metamorphosis and life cycles.
Can be used on any device plus I provided links and graphic organizers for anyone who does not have devices
Why Purchase?
This science resource is designed to help you implement this unit with confidence and ease. The ideas and strategies in this unit have helped me over the years and I am confident will help you, too!
Aligned to:
Next Generation Science Standards
Don't forget that leaving feedback earns you points toward FREE TPT purchases. I love that feedback!
Also, follow me and be notified when new products are uploaded. New products are always 50% off for the first 24 hours they are posted. It pays to follow me!
As always, please contact me with any questions!
Thank you so much,
Jen
Report this resource to TPT
Standards
to see state-specific standards (only available in the US).
Use evidence to support the explanation that traits can be influenced by the environment. Examples of the environment affecting a trait could include normally tall plants grown with insufficient water are stunted; and, a pet dog that is given too much food and little exercise may become overweight.
Analyze and interpret data to provide evidence that plants and animals have traits inherited from parents and that variation of these traits exists in a group of similar organisms. Patterns are the similarities and differences in traits shared between offspring and their parents, or among siblings. Emphasis is on organisms other than humans. Assessment does not include genetic mechanisms of inheritance and prediction of traits. Assessment is limited to non-human examples.