Life Cycle of the Ladybug Digital Interactive Notebook for Google Slides®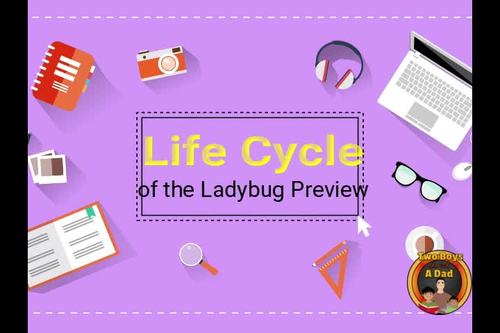 ;
PDF

Google Apps™

Internet Activities
16 slides + support material
Includes Google Apps™
The Teacher-Author indicated this resource includes assets from Google Workspace (e.g. docs, slides, etc.).
Also included in
The Life Cycle of Insects bundle contains three interactive digital notebooks designed to support the Next Generation Science Standards for investigations of life cycles in third grade (3LS1.b). This Google Slides® life cycles bundle is a virtual lab for students to engage, explore, explain, elabora

Price $13.80

Original Price $17.25

Save $3.45
Description
Get your students excited about learning about the life cycle of the ladybug! Use The Life Cycle of the Ladybug Digital Interactive Notebook which is designed to support the Next Generation Science Standards for investigations of life cycles in third grade (3LS1.b). This Google Slides® life cycles project is a virtual lab for students to engage, explore, explain, elaborate, and evaluate while engaged in the Science and Engineering Practices (SEP) of the NGSS.
The project follows the 5-E model of science learning. Each slide is annotated with one of the 5-E models of instruction behaviors. Additionally, the slide is annotated with the specific SEP of the NGSS. Students will be excited to watch linked videos and explore the fascinating life cycle of the ladybug.
HOW IT WORKS
Each student is assigned the Life Cycle of the Ladybug Google Slides Project. Each slide has a specific task involved based on the 5-E model. Students observe and collect data from images and a video or website link on the slide. Students take notes that are then used to complete the slide.
Instructions for the students are contained in the Speaker Notes section.
Students can refer to the video tutorial if they are unsure about using Google Slides.
Students should also utilize print resources that you provide or that they find on their own.
The Read Me file for the teacher includes the task involved on each slide.
Students can work individually, in pairs, or in small groups.
Once students complete a slide or the entire project, evaluate their learning with the included scoring guide and answer key
WHAT'S INCLUDED
Read Me File with Teacher Instructions for downloading the Google Slides File.
A 16 Slide Google Slides Life Cycle of the Ladybug Project
Instructions for assigning the Google Slides File to students
Suggestions for how to use a Digital Interactive Notebook with students
Answer Key
Printable Note Taking Sheet for students
Instructions on how to use the Google Slides file on other platforms such as OneDrive or SeeSaw and more
Scoring Guides
A list of Common Core State Standards for English Language Arts (3rd grade) (integrated into the project and the NGSS standards supported.)
Video Tutorial (link) for students to learn how to use the Digital Interactive Notebook
CONTENT OF SLIDES
Terms of Use
: Cover
: Observing ladybugs (Engage - SEP 3)
: Labeling the parts of a ladybug (Engage - SEP 3)
: Asking questions about the life cycle (Explore - SEP 4)
: Collecting Data on the life cycle (Explore - SEP 4)
: Developing a model for the life cycle based on the data (Explore - SEP 2)
: Explaining the egg stage (Explain - SEP 7)
: Explaining the larva stage (Explain - SEP 7)
: Explain the pupa stage (Explain - SEP 7)
: Explain the adult stage (Explain - SEP 7)
: Write about the life cycle (Explain - SEP 8)
: Compare and Contrast the life cycles of ladybugs and birds (Extend - SEP 4)
: Compare and Contrast the life cycles of ladybugs and fish (Extend - SEP 4)
: Interpreting Data of multiple life cycles (Evaluate - SEP 7)
Developing a new model for life cycles (Evaluate - SEP 4)
BENEFITS OF USING THIS RESOURCE
This project will save the teacher valuable time! All the images, video links, and website links have been screened and gathered all in one place to make it easy to start teaching with the NGSS.
The Google Slides file has already been created for you with support for the 5-E model and NGSS. Answer key and scoring guides also save teachers time and preparation.
The project is paperless, so no endless color copying! Also, there's no having to spend hours finding the resources (images, videos, websites) that are kid-friendly while having accurate information.
Just add your print resources from your existing science curriculum or teacher-created resources.
The project is self-paced and open-ended.
Easy to integrate with live science observations of ladybugs! Teachers are encouraged to keep live ladybugs in the classroom for more hands-on observation and data collection.
Technology integration is used to think critically, communicate, collaborate, or the Four Cs of 21st Century Learning.
The Read Me file is a PDF document. Make sure you can open it.
The Read Me file will have the link to the Google Slides file.
You should have a Google Account. If not, create one ahead of time (it's free!)
Two versions of the Google Slides are included.
Version 1 contains the direct links to the YouTube videos. Make sure your district/school/classroom is not blocked from YouTube.
Version 2 contains links to the YouTube videos but goes through ViewPure, so students see only the video and no YouTube extras (comments, related videos, etc.)
TEACHERS, LIKE YOU, SAID…
⭐️⭐️⭐️⭐️⭐️ Paloma G. says, "This was a great resource! I used it with my kids. It was engaging for them. Thank you for the resource! "
⭐️⭐️⭐️⭐️⭐️ Jaime Hernandez says, "This resource cut my planning and engaged my students. My students loved it! I got positive feedback from them. Thank you!!"
⭐️⭐️⭐️⭐️⭐️ Brooke L. says, "This resource was extremely helpful during this distance learning time. There was so much it lasted the whole week. Awesome!"
Related Products
⭐ Life Cycle of the Dragonfly Digital Interactive Notebook for Google Slides
⭐ Life Cycle of the Ant Digital Interactive Notebook for Google Slides
⭐ Tropical Rainforest Animal Adaptations Google Slides® Notebook
⭐ Ocean Biome Animal Adaptations Google Slides® Notebook
⭐ Savanna Animal Adaptations Interactive Notebook Google Slides®
Copyright © Two Boys and a Dad Productions
All rights reserved by the author.
Permission to copy for single classroom use only.
Permission to use on secure digital learning management system platforms (such as Google Classroom, Teams, Canva, etc.)
Comments, suggestions, feedback, and questions are always welcomed!
*******************************************************************
♦ Be sure to FOLLOW ME for updates and new product announcements!
♦ Do you need some fresh ideas and tips? Then visit My BLOG.
♦ Each time you give feedback, TPT gives you feedback credits that you use to lower the cost of your future purchases. I value your feedback greatly!
♦ If you have any questions or concerns, contact me through the Q & A, and I'll get back to you ASAP!
********************************************************
Total Pages
16 slides + support material
Teaching Duration
2 Weeks
Report this resource to TPT
Standards
to see state-specific standards (only available in the US).
Conduct short as well as more sustained research projects based on focused questions, demonstrating understanding of the subject under investigation.
Develop models to describe that organisms have unique and diverse life cycles but all have in common birth, growth, reproduction, and death. Changes organisms go through during their life form a pattern. Assessment of plant life cycles is limited to those of flowering plants. Assessment does not include details of human reproduction.