Life Science Digital Escape Room, Life Science Activity Pages BUNDLE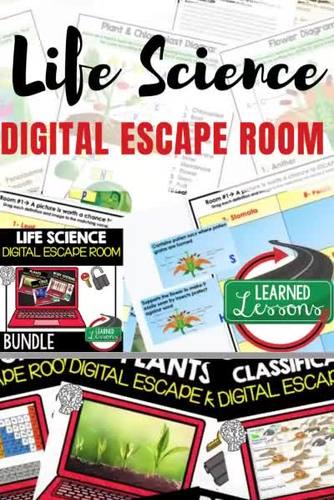 ;
Zip

Google Apps™
Includes Google Apps™
This bundle contains one or more resources with Google apps (e.g. docs, slides, etc.).
Products in this Bundle (10)
showing 1-5 of 10 products
Bonus
Dropbox and Google File Digital Links
Description
Life Science Activity Pages, Life Science Digital Escape Room, Life Science Test Prep, No Prep, Digital Substitute Plan
This is an excellent activity to have students BREAKOUT of their comfort zone and work together or individually, while concentrating on solving puzzles and drop-ins to review Life Science. Activity pages can also be used individually without Google Form Escape option. This activity is used through Google Classroom and can be used individually, as a group, or collaboratively shared. Instruction Google Form Video Included. Also included in Life Science MEGA BUNDLE AND NGSS MEGA BUNDLE.
Includes Breakout Rooms and Google Forms, Pages be used individually or in the Escape Room Format. Both Options are Included
Elements of Life Vocabulary Matching Activity
All About Elements of Life Reading Activity
Diagrams of Levels of Organization Activity
Levels of Organization Reading Activity
Elements of Life Reading ActivityPlants Vocabulary Activity
Reproduction in Plants Reading Activity
Plant Cell Diagram Activity
Plant & Chloroplast Diagram Activity
Flower Diagram Activity
Classification Vocabulary Matching Activity
All About Classification Reading Activity
Animal Classification Activity
Plant Classification Activity
Classification Reading Activity
Life Cycles Vocabulary Activity
All About Life Cycles Reading Activity
Life Cycles Diagram Activity
Parts of a Life Cycle Activity
Life Cycles Reading Activity 2
Cells Vocabulary Activity
Labeling Parts of a Cell Activity
Functions of a Cell Activity All About Cells Activity
Labeling a Microscope Activity
Reproduction & Heredity Vocabulary Activity
All About Reproduction Reading Activity
Mitosis & Meiosis Diagram Activity
Punnett Square Activity
All About Genetics Reading Activity
Ecology Vocabulary Activity
All About Ecology Reading Activity
Ecology Diagrams Activity
Chains, Webs, Pyramids, & Flow Charts
Reading Activity
Symbiotic Relationships Reading Activity
Adaptations Vocabulary Activity
All About Adaptations Reading Activity
Function & Structure Activity
Behavioral or Physical Adaptation Reading Activity
Natural Selection Reading Activity
Body Systems Vocabulary Activity
All About Body Systems Reading Activity
Diagrams of Body Systems Activity
Body Systems and Major Organs Matching Actiivty
Organ Interaction & Diseases Reading Activity
Water Cycle Vocabulary Activity
All About the Water Cycle Activity
Water Cycle Diagram Activity
Evaporation Diagram Activity
States of Matter & The Water Cycle Activity
Includes Instructions for the Teacher and Students
Teacher Instructions for ways to use this resource.
Teacher Instructions with links and instructions for how to set up this resource.
Student instruction page with detailed instructions.
Student grading sheet for recording CODES and points assigned by teacher.
check it out
FOLLOW TO GET UPDATES WHEN NEW RESOURCES ARE ADDED
Links to all MEGA BUNDLES
Other Resources to Check Out:
CIVICS PAGE
US HISTORY PAGE
GENERAL RESOURCE PAGE
ELA & WRITING PAGE
PHYSICAL SCIENCE PAGE
PHYSICAL SCIENCE RESOURCE PAGE
EARTH SCIENCE PAGE
LIFE SCIENCE PAGE
WORLD HISTORY PAGE
GEOGRAPHY PAGE
LOUISIANA HISTORY PAGE
CLIPART RESOURCE PAGE
learnedlessonstpt@gmail.com
Thank you for your support! --Learned Lessons
Learned Lessons Teaching Material
learnedlessonstpt@gmail.com
#TPTDIGITAL #TPTTECH Google, 1:1, Digital
Report this resource to TPT
Standards
to see state-specific standards (only available in the US).
Construct a scientific explanation based on evidence for how environmental and genetic factors influence the growth of organisms. Examples of local environmental conditions could include availability of food, light, space, and water. Examples of genetic factors could include large breed cattle and species of grass affecting growth of organisms. Examples of evidence could include drought decreasing plant growth, fertilizer increasing plant growth, different varieties of plant seeds growing at different rates in different conditions, and fish growing larger in large ponds than they do in small ponds. Assessment does not include genetic mechanisms, gene regulation, or biochemical processes.
Develop a model to describe how food is rearranged through chemical reactions forming new molecules that support growth and/or release energy as this matter moves through an organism. Emphasis is on describing that molecules are broken apart and put back together and that in this process, energy is released. Assessment does not include details of the chemical reactions for photosynthesis or respiration.
Develop and use a model to describe the function of a cell as a whole and ways the parts of cells contribute to the function. Emphasis is on the cell functioning as a whole system and the primary role of identified parts of the cell, specifically the nucleus, chloroplasts, mitochondria, cell membrane, and cell wall. Assessment of organelle structure/function relationships is limited to the cell wall and cell membrane. Assessment of the function of the other organelles is limited to their relationship to the whole cell. Assessment does not include the biochemical function of cells or cell parts.
Construct an explanation that predicts patterns of interactions among organisms across multiple ecosystems. Emphasis is on predicting consistent patterns of interactions in different ecosystems in terms of the relationships among and between organisms and abiotic components of ecosystems. Examples of types of interactions could include competitive, predatory, and mutually beneficial.
Develop a model to describe the cycling of matter and flow of energy among living and nonliving parts of an ecosystem. Emphasis is on describing the conservation of matter and flow of energy into and out of various ecosystems, and on defining the boundaries of the system. Assessment does not include the use of chemical reactions to describe the processes.