Life Skills Cleaning Tools in Activities of Daily Living Boom Cards™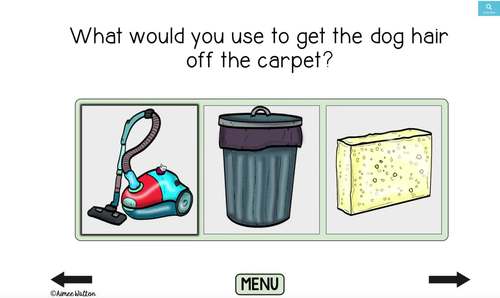 ;
5

th

- 12

th
,
Adult Education
,
Homeschool
Compatible with Digital Devices
The Teacher-Author has indicated that this resource can be used for device-based learning.
Also included in
Functional Communication and Life Skills Teletherapy BUNDLEAre you looking to target functional communication in activities of daily living? Well, look no further! This deck consists of 10 digital task cards resources for teens and young adults to address life skills in their school, home, and commu

Price $29.00

Original Price $36.00

Save $7.00
Description
Life Skills Cleaning Tools in Activities of Daily Living
Are you looking to work on a fun, interactive activity to work on functional communication and identifying and labeling cleaning supplies? This deck consists of 61 cards, all targeting cleaning supplies used during activities of daily living. This resource includes 3 different activities, designed to address common household cleaning items, where students can practice identifying which cleaning item to use when provided with a variety of target scenarios. Page 1 is a MENU card to navigate to the desired activity.
Target areas include:
⭐️ open response with a picture of a cleaning item
⭐️ yes/no questions with a picture of a cleaning item
⭐️ multiple choice responses with a FO3 cleaning supplies to select from
All responses are accepted in the open response form, but only one answer is correct in the yes/no questions and multiple choice response boxes. Cleaning items targeted include the following: vacuum, broom, trash can, trash bags, sponge, gloves, recycling bin, duster, bucket, cloth, starch, window cleaner, scrubbing brush, mop, dust pan, dusting spray, oven cleaner, hand vacuum, paper towels, dust mop, and ammonia.
These BOOM CARDS cards are NO PRINT, interactive, digital task cards. They can be used on your computer, smart board, Ipad and are teletherapy-compatible and can be used for distance learning. Upon selection, students are provided with immediate feedback (visual and auditory) on their response.
►When you download this product, you will receive a PDF with a link to the digital task cards on the Boom Learning Site. Click on the picture where indicated and it will take you to the Boom learning site.
If you like this activity, you might also like the following activities:
Task Box Activities of Daily Living Bundle
Life Skills Reading Comprehension in ADLs Speech Boom Cards™
Expired or Not Expired Food Items Speech Boom Cards™
Life Skills Weather Forecasts and What to Wear Speech Boom Cards™
Activities of Daily Living Teletherapy Speech Boom Cards™ Bundle
Life Skills-Following Directions to Make Recipes Speech Boom Cards™
Perspective Taking and Emotions-Speech Boom Cards™
Social Language and Problem Solving
Critical Thinking in Activities of Daily Living Speech Boom Cards ™
Making Predictions in Activities of Daily Living-Speech BOOM CARDS™
Verbal Reasoning for Activities of Daily Living-Speech Boom Cards™
Safe or Unsafe Stranger Danger Situations-Speech Boom Cards™
Let's Connect!
More information on Boom Cards:
To use Boom Cards, you must be connected to the Internet. Boom Cards play on modern browsers (Chrome, Safari, Firefox, and Edge). Apps are available for Android, iPads, iPhones, and Kindle Fires. For security and privacy, adults must have a Boom Learning account to use and assign Boom Cards. You will be able to assign the Boom Cards you are buying with "Fast Pins," (play provides instant feedback for self-grading Boom Cards). Fast Play is always a free way for students to engage with Boom Cards decks. For additional assignment options you'll need a premium account.
You may be eligible for a free trial from Boom Learning. Read here for details: http://bit.ly/BoomTrial. If you choose not to stay on a premium account after your free trial, you will still be able to assign all your Boom Cards to as many students as you see fit using Fast Play pins (which give instant feedback for decks that are self-grading).
FOLLOW MY TPT STORE:
As a follower you will learn about new products that are released, sales and discounts. New products are 50% for the first 24 hours! Click on the "*Follow Me" by my store logo to stay up to date!

SAVE BY LEAVING FEEDBACK ON PURCHASES
If you leave feedback on any of my products you can build up TPT credits that may be applied to future purchases. Just submit feedback when you purchase a product or go to My Purchases for a list of your purchases. Click on the Leave Feedback button and leave a rating. Then go to your TPT credits to learn how to redeem credits for purchases.
Report this resource to TPT