Life Skills for Kids: Sewing a Button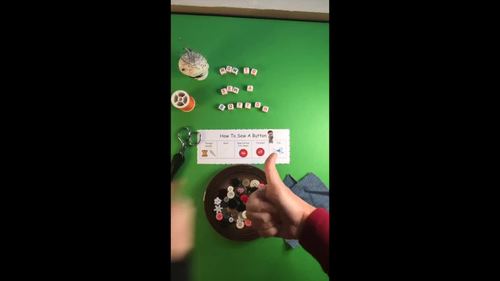 ;
Description
This Life skills for Kids set is all about BUTTONS!!
Includes adorable images and 12 task card activities to help students learn the art of sewing a button while practicing fine motor development and applying additional areas of learning.
Objective: Improve fine motor skills while mastering how to thread a needle, knot thread, sew a button and tie-off the thread when done.
Activities include:
Threading and tying thread
Sewing real buttons onto scrap material
Sewing letters together to string the alphabet
Sewing words onto a jar page
Solving math facts by sewing (or clipping) the answer
and more
More Life Skills:
You May Also Like:
More Life Skills:
Customer Tips:
How to get TPT credit to use on future purchases:
• Please go to your My Purchases page (you may need to login). Beside each purchase you'll see a Provide Feedback button. Simply click it and you will be taken to a page where you can give a quick rating and leave a short comment for the product. Each time you give feedback, TPT gives you feedback credits that you use to lower the cost of your future purchases. I value your feedback greatly as it helps me determine which products are most valuable for your classroom so I can create more for you. ☺
Customer Tips:
How to get TPT credit to use on future purchases:
• Please go to your My Purchases page (you may need to login). Beside each purchase you'll see a Provide Feedback button. Simply click it and you will be taken to a page where you can give a quick rating and leave a short comment for the product. Each time you give feedback, TPT gives you feedback credits that you use to lower the cost of your future purchases. I value your feedback greatly as it helps me determine which products are most valuable for your classroom so I can create more for you. ☺
Report this resource to TPT