Literacy (Alphabet) Math (Numbers to 20) Boom Cards Bundle Fall Pumpkins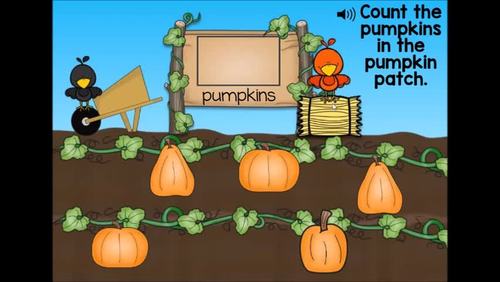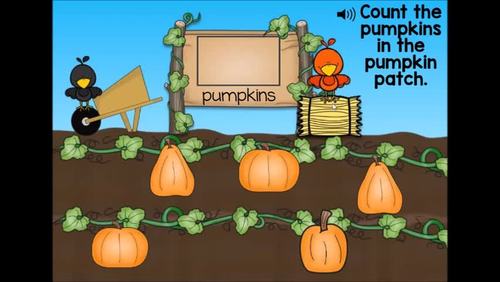 Created By
Lessons for Little Ones by Tina O'Block
 Digital Resource for Students
The Teacher-Author has indicated that this resource is made for device-based learning.
Products in this Bundle (4)
Alphabet Letter Match in the Pumpkin Patch Boom Cards are a festive and interactive way for students to practice letter recognition and for you to easily assess their letter mastery.Students will have fun visiting the pumpkin patch, listening to the audio directions (listening skills practice!), and

Letter Sounds (Beginning Sounds) Match in the Pumpkin Patch Boom Cards are a fun and festive way for your students to practice letter sounds (beginning sounds) and for you to easily assess their letter mastery.Students will have fun visiting the pumpkin patch, naming the picture on the sign, and pic

Digital, engaging fall themed practice and assessment for counting to 20 & numbers to 20. These fun Boom Cards allow students to practice counting, number recognition, and one-to-one correspondence by counting the pumpkins in the pumpkin patch and typing the correct number on the sign (common co

Give your students engaging, interactive missing numbers practice in the pumpkin patch with these digital Boom Cards! When learning to count, it is important for young learners to be able to start counting from a random place and fill in any missing numbers.This fall, autumn Boom Card deck provides
Description
This money-saving bundle pack includes 6 fall digital Boom Card decks that have engaging, interactive math and literacy practice in the pumpkin patch for:
counting to 20
number recognition to 20
one-to-one correspondence
number sequencing (number order)
missing numbers
counting on from different numbers
letter recognition
letter sounds (beginning sounds)
Students enjoy the interactive nature of the cards and these Boom cards require LOW PREP (no printing, cutting, or laminating) making them easy for you. Students simply access the Boom card deck on a laptop, desktop, iPad, smartphone, tablet, or interactive whiteboard and complete the fall, autumn digital task cards.
These math and literacy cards are self-checking so students know right away whether they are correct. They also have audio instructions allowing young learners to work independently.
Please see the preview files for playable samples of each deck.
The digital task cards in each deck play in random order so each play of the decks is different which alleviates boredom and maintains interest.
Perfect for small group or whole group instruction, fall and literacy centers, party stations, assessment, morning work, extra practice, etc!
What are Boom Cards?
Boom Cards are interactive, self-checking digital task cards that require NO PREP (no printing, cutting, or laminating required)!
They offer an easy way for teachers to assess important skills and a fun way for students to practice these skills.
They are perfect for whole group instruction on an interactive whiteboard or small group instruction, center activities, individual practice on an iPad, laptop, desktop, tablet, or smartphone.
New to Boom? Boom Cards live in the cloud. They can't be printed. They play on most modern browsers, Android, iPads, iPhones, and Kindle Fires.
When you redeem your purchase, you open a Boom Learning account to play the cards (they are played on Boom to protect the children). You create Fast Play pins to assign your Boom Cards to students.
Boom Learning also has premium accounts. Premium accounts offer advanced assignment tools, individual and whole class performance tracking, and more. If you are a new Boom Learning customer, when you redeem your Boom Cards purchase you get a 90-day free trial of a premium account. When your trial ends, you can renew or move to a free account. You may upgrade, downgrade or cancel at any time. Free accounts use purchased Boom Cards with Fast Play pins.
If you do not subscribe at the end of your trial, you will be able to continue using Boom Cards with the Fast Play feature. Fast Play does not track individual progress.
Boom Cards play on modern browsers (released in the last three years) on interactive whiteboards, computers and tablets. Boom Cards apps are also available. Not sure if your browser is modern enough? Try a free Boom Cards deck first.
You may also like:
Thanksgiving Alphabet Letters & Letter Sounds (Phonics) Boom Cards Bundle
*************************************************************************************************
Be the first to know about new discounts, freebies and product launches:
• CLICK HERE to become a follower. You will now receive email updates about this store.
*************************************************************************************************
Report this Resource to TpT
Standards
to see state-specific standards (only available in the US).
Associate the long and short sounds with common spellings (graphemes) for the five major vowels.
Demonstrate basic knowledge of one-to-one letter-sound correspondences by producing the primary sound or many of the most frequent sounds for each consonant.
Recognize and name all upper- and lowercase letters of the alphabet.
Count forward beginning from a given number within the known sequence (instead of having to begin at 1).