Literary Essay Writing: DIGITAL Interactive Notebook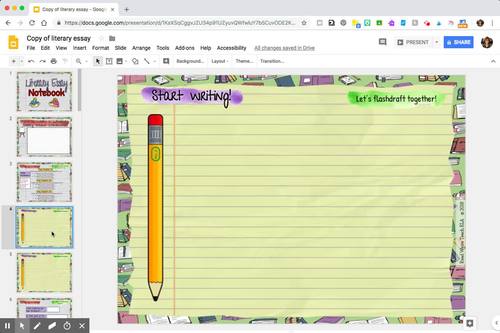 ;
PDF

Google Apps™
Includes Google Apps™
The Teacher-Author indicated this resource includes assets from Google Workspace (e.g. docs, slides, etc.).
What educators are saying
This product helped my students who were learning from home stay organized and on track with our literary essay unit.
This made our virtual week(s) so much easier! The students were able to follow along and were very engaged.
Also included in
Trying to go paperless? Find all you'll need for an entire school year's worth of writing units here! Each unit was created with a writing workshop model in mind. A few are also aligned with Lucy Calkins' Units of Study. Just use Google Classroom and Slides and you're set! DON'T NEED EVERYTHING IN T

Price $78.00

Original Price $97.50

Save $19.50

This is my entire school year! I teach 6th grade English Language Arts and these digital notebooks are what I use for all of my units. They could definitely be used for grades 5-8, too. They are reading and writing workshop-based. To find out more about these units, check out my blog post here or ta

Price $98.80

Original Price $123.50

Save $24.70

This bundle was made per request. If you'd like your own custom bundle, please download my PRIMARY FREEBIE to fill out a Google Form.© Copyright 2019 M. Mariano. All rights reserved. Permission is granted to copy pages specifically designed for student or teacher use by the original purchaser or lic

Price $144.12

Original Price $180.15

Save $36.03

This bundle was made per request. If you'd like your own custom bundle, please download my PRIMARY FREEBIE to fill out a Google Form.© Copyright 2019 M. Mariano. All rights reserved. Permission is granted to copy pages specifically designed for student or teacher use by the original purchaser or lic

Price $19.00

Original Price $27.15

Save $8.15

This bundle was made per request. If you'd like your own custom bundle, please download my PRIMARY FREEBIE to fill out a Google Form. © Copyright 2020 M. Mariano. All rights reserved. Permission is granted to copy pages specifically designed for student or teacher use by the original purchaser or l

Price $186.04

Original Price $232.55

Save $46.51

This bundle was made per request. If you'd like your own custom bundle, please download my PRIMARY FREEBIE to fill out a Google Form.© Copyright 2020 M. Mariano. All rights reserved. Permission is granted to copy pages specifically designed for student or teacher use by the original purchaser or lic

Price $84.60

Original Price $105.75

Save $21.15

I have over 100 products in my store and several bundles. Are there some bundles that you are interested in, but can't quite use it all? Make your own bundle! This Google Form lists all of my resources. Take a look around my store, determine what you want, click it on the Form, and I will make a bun

Price $51.70

Original Price $68.90

Save $17.20

I have over 100 products in my store and several bundles. Are there some bundles that you are interested in, but can't quite use it all? Make your own bundle! This Google Form lists all of my resources. Take a look around my store, determine what you want, click it on the Form, and I will make a bun

Price $66.92

Original Price $83.65

Save $16.73
Teaching Duration
1 month
Report this resource to TPT