Literary Lenses Workbook: Literary Theory / Criticism, Critical Lenses Unit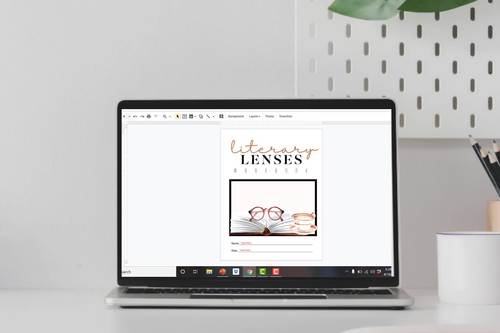 ;
What educators are saying
This resource provided a great introduction to the different literary lenses for my students. A year later they continue to refer back to it in their studies.
As a first year teacher with a passion for literary theory, this was a fantastic resource and starting off point to implement Lit Crit into my classroom. GREAT resource! Extremely happy.
Also included in
Engage your students in literary analysis and critical reading with my bestselling Literary Lenses Curriculum. This curriculum bundle has everything you need to teach students to analyze literature from a variety of perspectives. Activities to teach any poem, novel, and short story in your curriculu

Price $44.00

Original Price $52.00

Save $8.00
Description
You asked, I listened! This bestselling resource is now editable! You can edit the text body* on every slide! I also added two new lenses and created new lens titles to make them broader and more accessible for students. Finally, I edited the lens background descriptions to make them easier for students to associate with the lens. I'm working to make these lens titles consistent across all of my Literary Lenses resources.
Teaching students to read and understand text from a variety of theoretical perspectives is arguably one of the best ways to engage their reading interests, challenge their thinking, and encourage higher-order analysis. The problem is finding ways to make literary theory both accessible and interesting for students in an organized and prepared way for the teacher.
Look no further! The Literary Lens Workbook is a versatile resource to teach students the essence of literary theory through accessible literary lenses, while also giving them the ability to put the lenses into practice.
The literary lenses provided in the workbook can be used with ANY text, so you can use this workbook to meet the needs of your class. I will provide teaching ideas and text pairings for each literary theory.
The Literary Luminary Project-Based Assessment is a great way to evaluate students' understanding of the text and encourage higher-order thinking. The text on the assessment and rubric are editable* so you can tailor it to fit your students and the lenses you covered.
*Please note that due to copyright, some of the heading fonts and all of the clip art will not be editable. You will still be able to edit all of the text body.
Lenses Included:
Archetypal
Artistic
Biographical
Cultural
Deconstruction
Disability Studies
Ecological
Formal
Gender
Historical
Post-colonial
Psychological
Reader
Social Class
This workbook was copyrighted by Jenna Copper, LLC in 2013. It is the result of my three-year participatory action research dissertation study.
Copper, J. M. (2013). Thinking critically about teaching criticism: Using teachers' perceptions to evaluate the literary theory implementation model in the secondary English classroom. Robert Morris University. ProQuest Dissertations and Theses, 195.
Report this resource to TPT
Standards
to see state-specific standards (only available in the US).
Cite strong and thorough textual evidence to support analysis of what the text says explicitly as well as inferences drawn from the text, including determining where the text leaves matters uncertain.
Demonstrate knowledge of eighteenth-, nineteenth- and early-twentieth-century foundational works of American literature, including how two or more texts from the same period treat similar themes or topics.
By the end of grade 11, read and comprehend literature, including stories, dramas, and poems, in the grades 11-CCR text complexity band proficiently, with scaffolding as needed at the high end of the range.By the end of grade 12, read and comprehend literature, including stories, dramas, and poems, at the high end of the grades 11-CCR text complexity band independently and proficiently.
Read closely to determine what the text says explicitly and to make logical inferences from it; cite specific textual evidence when writing or speaking to support conclusions drawn from the text.
Analyze the structure of texts, including how specific sentences, paragraphs, and larger portions of the text (e.g., a section, chapter, scene, or stanza) relate to each other and the whole.