Literature Analysis Worksheets, Printable and Digital, Distance Learning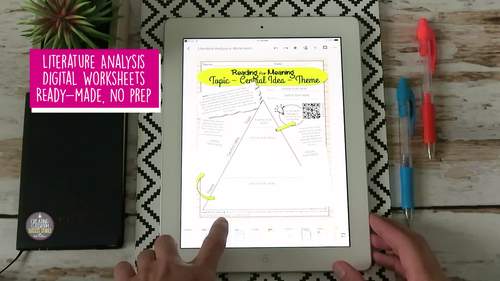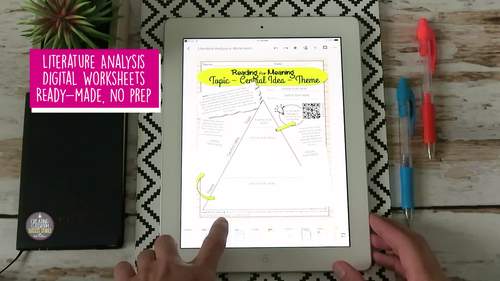 Created By
Julie Faulkner
Also included in:
Grab your favorite novel and you'll be set with this bundle of creative and rigorous tools for teaching, analyzing, and assessing literature. You'll have everything you need to enjoy any piece of literature throughout the year at your fingertips. Your students will love the variety and interactive

These no-prep analysis and comprehension worksheets/graphic organizers in printable and digital format are an excellent modern and engaging way to have students take ownership of their learning and dig deeper, respond to, and closely read a text. Having both formats in ready-to-go format makes teac
Product Description

Standards
These literature analysis and comprehension worksheets are an excellent modern and engaging activity to have students take ownership of their learning and dig more deeply while closely reading short story, novel, or literary piece of your choice. Now in printable and digital format -- and no prep for you.
Student Experience: The questions and tasks on these graphic organizers correlate directly with not only CCSS anchor standards, but also with higher-level thinking analysis skills on topics such as symbolism, irony, figurative language, plot, characterization, intertextuality, theme, comprehension, conflict, and setting. They enable you to scaffold reading process and take students step by step deeper into the text of your choice. The sheets can be used in isolation, or you could use several for one text and create a student workbook depending on what your needs are!
Skills included for analysis:
-Symbolism
-Meaning Across Texts
-Setting
-Comprehension
-Irony
-Figurative Language and Sounds Devices
-Conflict
-Characterization
-Plot
-Theme
Included:
- 10 printable worksheets (PDF)
- 10 ready-made-for-Google eworksheets (text boxes are already placed for you, but they are movable and editable)
- 10 Individual links for the eworksheets
- Standards
You can have these ready and pull them out a moment's notice to conduct an amazingly in-depth lesson of your favorite text! Pull them out and use them for sub plans. Your students will love that they are beautifully designed and easy to use. You will love that your students are engaged successfully in discussing literature. Your admin will love that students are thinking critically and meeting standards.
Classroom success stories from other teachers who have tried this resource:
♥ "Great resource to use when wanting to add additional support on a literature concept.
♥ "Super resource ! They are a great addition when I have a study guide for a particular novel, but are especially useful when I am putting together my own study guide. They really do work with any text. The variety of topics and skills covered is great."
♥ "Wonderful quality and easy to use!"
♥ "Enjoyed using these for group/individual activities for novels that we read. I plan on these next year! Great resource!"
♥ "These look amazing, and they look really easy (step by step) to use. I can't wait to use them in class!"
♥ "Perfect for my upcoming unit! I can't wait to use these, they are clear, concise, visually appealing, and they will really get my students thinking about the texts they will be reading! Thanks!"
Be the first to know about my new discounts, freebies and product launches. Look for the green star next to my store logo and click it to FOLLOW ME. Voila! You will now receive email updates about my store.
For more ideas and inspiration:
Julie's Classroom Stories on Instagram
Julie's Classroom Stories on Facebook
Teaching Middle and High School English Facebook Group
Yearbook and Journalism Facebook Group
Terms of Use: One classroom use only. Not permitted to post online outside unsecured environments. Art and images documented inside file.
Log in
to see state-specific standards (only available in the US).
Read and comprehend complex literary and informational texts independently and proficiently.
Analyze how two or more texts address similar themes or topics in order to build knowledge or to compare the approaches the authors take.
Assess how point of view or purpose shapes the content and style of a text.
Analyze the structure of texts, including how specific sentences, paragraphs, and larger portions of the text (e.g., a section, chapter, scene, or stanza) relate to each other and the whole.
Interpret words and phrases as they are used in a text, including determining technical, connotative, and figurative meanings, and analyze how specific word choices shape meaning or tone.
Report this Resource to TpT