Literature Circles Activity Set for Any Book List (Editable Option)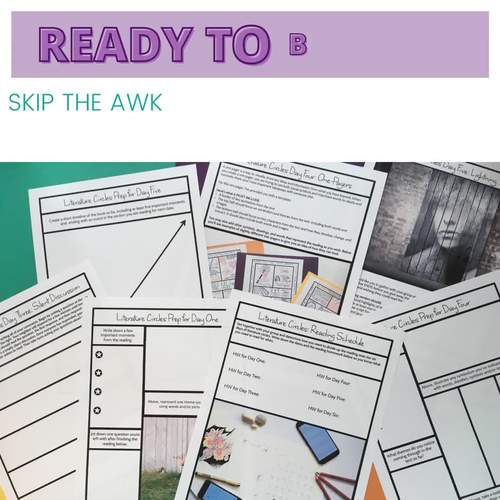 ;
What educators are saying
This was great! My students especially loved the Book Trailer activity at the end of the unit. Thanks!
I love Betsy's resources. This keeps students engaged without the activities being repetitive. It allows students to bring their own ideas and learning to the forefront.
Description
Literature circles are so promising. Giving students choice really helps inspire them to read. At the same time, traditional literature circles are prone to draaaaag.
Students aren't always prepared to dive in and lead their own discussion, even when assigned to the classic literature circles roles. It's no fun racing from group to group, trying to inspire good conversation with your teacherly presence.
That's why this literature circles unit for older kids skips the roles and the awkward silences.
Instead, you'll have six meeting days' worth of creative activities for your students to work on in their groups. They'll get choice over their books and creative ways to respond to them, and you'll get peace of mind during your literature circles unit. Finally.
Zip file: Google Drive + PDF Versions included.
What's inside:
Clear suggestions for scheduling your unit over the course of about a month, including a book tasting, six meetings, a one-pagers gallery, lightning versions performance day, book trailer viewings and awards voting, and more.
6 Prep sheets to get students ready to succeed with each in-class activity, which will also serve as your chance to check that students did read
6 Unique Activities for your students to work on in class together: the open mind character analysis, book-inspired social media posts, the silent discussion (really!), one-pagers, lightning versions, and book trailers
Easy rubric for grading the final project (book trailers to share with the class)
Check out the preview video for a quick tour through the full curriculum.
From the Reviews:
"I LOVED this resource. It has made planning this unit SO EASY. I just printed it out and went! I will definitely be using it again!"
"I absolutely love this resource! We started doing Lit Circles at the high school level 3 years ago and the lit circle worksheets were very elementary/middle schoolish. These worksheets are not like that at all."
"EXCELLENT resource! I really loved this tool and will use it again and again. Highly recommend purchasing this if you are starting out with Literature Circles.."
Questions? I've got answers! Shoot me an e-mail at betsy@nowsparkcreativity.com and I'll try to help.
You might also be interested in:
The Ed Deck: Lesson Planning Inspiration
Argument Writing that's Real-World Relevant
Teaching Duration
2 Weeks
Report this resource to TPT
Standards
to see state-specific standards (only available in the US).
Cite strong and thorough textual evidence to support analysis of what the text says explicitly as well as inferences drawn from the text.
Determine a theme or central idea of a text and analyze in detail its development over the course of the text, including how it emerges and is shaped and refined by specific details; provide an objective summary of the text.
Analyze how complex characters (e.g., those with multiple or conflicting motivations) develop over the course of a text, interact with other characters, and advance the plot or develop the theme.
Analyze how an author draws on and transforms source material in a specific work (e.g., how Shakespeare treats a theme or topic from Ovid or the Bible or how a later author draws on a play by Shakespeare).
By the end of grade 9, read and comprehend literature, including stories, dramas, and poems, in the grades 9-10 text complexity band proficiently, with scaffolding as needed at the high end of the range.By the end of grade 10, read and comprehend literature, including stories, dramas, and poems, at the high end of the grades 9-10 text complexity band independently and proficiently.