Literature Circles for Middle School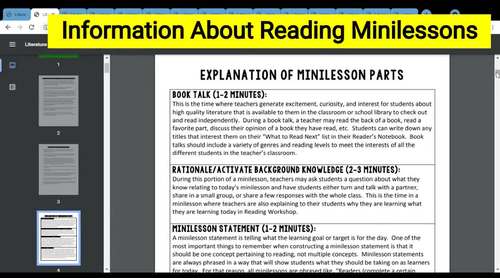 ;
Zip

Google Apps™
Includes Google Apps™
The Teacher-Author indicated this resource includes assets from Google Workspace (e.g. docs, slides, etc.).
What educators are saying
We were told to do literature study with our students with very little guidance. This resource was amazing. It helped me to focus my teaching and organize my students.
This was a great resource to set students up with being successful in lit. circles who had not previously been exposed to them.
Description
If you want to try literature circles in your classroom, but aren't sure what steps to take to get your students ready to have engaging, thoughtful conversations about books, then this resource is for you. If your students have never tried literature circles before, it's hard to just jump right in and expect students to know how to have productive conversations with one another. That's why this resource is perfect for laying the foundation for great book conversations between students.
This is a great unit for reading instruction at the middle school level because you can use it several times throughout the year with book sets that are available at your school based on units and themes that you already use. It's the perfect way to start and end any school year to foster a love of reading and community in your classroom. Literature Circles are small group reading instruction that are formed with heterogeneous groups and encourage students to have rich conversation surrounding text. This product includes:
-Lessons that provide a step-by-step approach to strategically walk you through how to implement literature circles in your classroom
-Rationales/key understanding for why and how to use literature circles in your classroom
-Printable book selection form for students to help establish literature circle groups so that students can receive one of their top book choices
-Printables and information for how to establish student expectations for literature circle preparation and how to interact in a literature circle group
-Information and printables for culminating projects for students to complete after literature circles
-Literature circle preparation sheets for students so that students are prepared and ready to discuss the text
-Note taking template and rubric for teachers to use while observing and evaluating literature circles
-Student self-evaluation and group evaluation for literature circles
-Literacy terms minilessons for students to apply to literature circle books
-Final assessment to assess student comprehension of literary terms within their literature circle book
-Rubrics to assess the culminating project, student preparation for literature circles, and student participation during literature circles
-Additional organization ideas for teachers and students to use during literature circles
-Common Core State Standards met for Grades 5-8 in Reading/Speaking & Listening during literature circles
-Teacher anecdotal notes template and grading rubric to track student participation.
-Within, beyond, and about the text sample questions for the teacher to lift discussions.
-Literature circle interactive bookmarks for students to record discussion questions with textual evidence.
*All documents come in a PDF, Editable, and Digital forms for ease of use.
*Download the preview to see how to get the first couple days of Literature Circles start, and if you're interested in implementing this small group reading instruction into your classroom. Download the whole product and enjoy seeing your middle school students engaged in reading and discussion surrounding their reading.
What are people saying about this resource?
"This is hands down the best product I've ever purchased on TPT! I attempted lit circles for the first time this year (2nd year teacher), and I wasn't sure how to approach it. I'm not fond of the traditional roles because students focus on their one task and don't always see the big picture. The Lit Prep sheet for students to fill in is amazing! It has helped the students have a richer discussion. Thank you so much for this product!! I highly recommend it!"
"I loved this approach to literature circles and the recommendation to stagger due dates to meet with each literature circle. I use this with middle school but also adapted it for high school. Everything you need for great skill based literature circles with clear objectives and mini-lesson ideas."
You might also like…
Friendly Reminders
to receive notifications of new product listings and when resources in my store are on sale by clicking the green "Follow Me" star underneath my store name.
Don't forget to leave feedback on purchases you make from my store to receive TpT credit for future purchases. Providing detailed feedback allows teachers considering a resource from my store to feel confident in their purchase. I greatly appreciate your support.
If you have questions for me, feel free to leave a question in the Q&A tab in regards to a specific resource or email me directly at kbkiehl@gmail.com.
Let's Be Teacher Friends
Teaching Duration
1 month
Report this resource to TPT
Standards
to see state-specific standards (only available in the US).
Read closely to determine what the text says explicitly and to make logical inferences from it; cite specific textual evidence when writing or speaking to support conclusions drawn from the text.
Determine central ideas or themes of a text and analyze their development; summarize the key supporting details and ideas.
Analyze how and why individuals, events, and ideas develop and interact over the course of a text.
Analyze the structure of texts, including how specific sentences, paragraphs, and larger portions of the text (e.g., a section, chapter, scene, or stanza) relate to each other and the whole.
Assess how point of view or purpose shapes the content and style of a text.