Long Vowel CVCe Sentence Building Boom Cards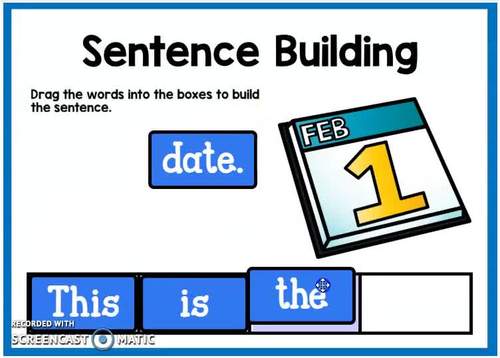 ;
Compatible with Digital Devices
The Teacher-Author has indicated that this resource can be used for device-based learning.
What educators are saying
Great product that was easy for students to use during distance learning. Students were able to focus on the skill and not get distracted. Cute format and clipart!
Also included in
These phonics boom cards are perfect for literacy centers. These digital task cards feature phonics sentence building (short vowels, long vowels, digraphs, blends, and r controlled vowels). There are 21 fun, engaging, interactive, and self-checking digital games!Students will unscramble the sentence

Price $17.50

Original Price $24.98

Save $7.48

Are your kindergarten or 1st grade students struggling with CVCe long vowel sounds?If so, they will love these engaging phonics long vowel Boom Cards for learning magic e (silent e). These no prep digital activities are ideal as literacy centers.This bundle includes 9 decks - - 4 Word Building Deck

Price $12.50

Original Price $15.49

Save $2.99
Description
These long vowel CVCe boom cards are ideal for phonics lessons and literacy centers. These digital task cards feature long vowel CVCe sentence building (long a, i, o, u). This product features FOUR fun, engaging, interactive, and self-checking digital games!
Students will unscramble the sentences by dragging and dropping the words. There are cute pictures as helpful hints. Students will practise sentence structure and reading sight words (I, like, see, the, a, look, is, at, has, here, this, my etc). The focus of these boom decks are long vowels (magic e). FOUR decks are included:
Long A - face, date, wave, cape, cane, wake, bake, cake, game, late.
Long I - dice, bite, wipe, file, nine, hide, time, bike, ripe, dive.
Long O - home, poke, rope, cone, note, robe, hose, joke, nose, rose.
Long U - mule, cube, fume, tune, dune, cute, tube, rude, rules, huge.
This is not a printable resource. This download will give you a PDF that will link you to the Boom Cards on the Boom Learning website.
Try this deck by checking out the preview - CLICK HERE!
Download my FREE Boom Cards -
How to Download Boom Cards on Teachers Pay Teachers
It comes with a PDF of Boom Card FAQs.
Boom cards are self grading exercises on the Boom Learning website. Students are assessed on their knowledge in a fun and engaging way (Boom Cards are like a game). They are interactive and students click, drag, drop, or type in order to show the answer. These Boom Cards are an awesome way to assess your student's sentence structure and CVC knowledge. They can be fun and engaging Literacy Centers which you can use with your classroom technology, such as iPads, computers, and interactive whiteboards. Best of all? There is NO printing, cutting, or laminating!
"With your Teachers Pay Teachers download, users new to Boom Learning get a 90 day free trial of student progress reporting for up to 150 students. Your trial includes the ability to make up to 5 free DIY decks. You may upgrade or cancel at any time. Boom Cards play on modern browsers (released in the last three years) on interactive whiteboards, computers and tablets. Boom Cards apps are also available. Not sure if your browser is modern enough? Try a free Boom Cards deck first. When you redeem your purchase, Boom Learning opens an account for you if you do not already have one. If you do not subscribe at the end of your trial, you will be able to continue using Boom Cards with the Fast Play feature. Fast Play does not track individual progress. If you do not subscribe we will delete your student records 3 months after the expiration of the trial to protect student privacy."
Enjoy this resource! Don't forget to follow my store for more awesome products and rate this product :)
Kindergarten Math MEGA Boom Cards Bundle
Phonics Sentence Building Boom Cards Big Bundle
Report this resource to TPT
Standards
to see state-specific standards (only available in the US).
Demonstrate understanding of spoken words, syllables, and sounds (phonemes).
Count, pronounce, blend, and segment syllables in spoken words.
Blend and segment onsets and rimes of single-syllable spoken words.
Isolate and pronounce the initial, medial vowel, and final sounds (phonemes) in three-phoneme (consonant-vowel-consonant, or CVC) words. (This does not include CVCs ending with /l/, /r/, or /x/.)
Know and apply grade-level phonics and word analysis skills in decoding words.