Long Vowel Teams: A Phonics Centers Bundle of Word Work Activities, Games & More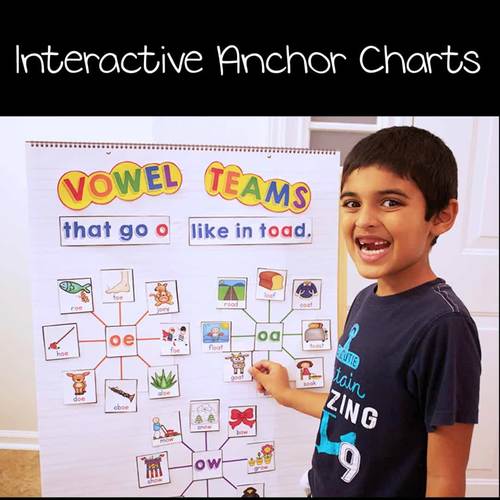 ;
What educators are saying
With this product I was able to create anchor charts and had engaged learners for each vowel pair lesson.
This resource has so many activities to use! It is going to keep us going until April break! Thank you for such a thoughtful product.
Products in this Bundle (6)
showing 1-5 of 6 products
Description
This gigantic bundle includes over 500 pages focused on vowel teams!!! Introduce them with the anchor charts and provide students with a diversity of word work activities to master this vital phonics skill that will help students to be better readers and writers. Includes anchor charts, word work cards, no prep printables, games, puzzles, and interactive notebook entries. This resource covers vowel teams that make long vowel sounds.
Please note, if you purchased all the individual resources in this package, you would spend $36.50. Save over 35% off with the bundle at only $22!
Covers the Following Vowel Teams:
•As in long a: ai, ay
•As in long e: ea, ee, ie, ey, y
•As in long i: ie, igh, y
•As in long o: oa, oe, ow
•As in long u: ue, ew, ui
This resource is a bundle of the following six vowel team resources:
Vowel Team Interactive Notebook

Make it Easy to Find. Add This to Your Wishlist.
If using the app to view or wanting to hold off at the moment, adding this to your wishlist by clicking the green button under the cover and title will make it easy to find for later should you decide to get this.
Also, make sure to follow The Candy Class by clicking here, so you can receive notice of updates on resources and find out about when I post new ones at half off or do some dollar deals. Many of these go on sale initially, so look out for the new resource email.
Best,
Jolene from The Candy Class
Report this resource to TPT
Standards
to see state-specific standards (only available in the US).
Know and apply grade-level phonics and word analysis skills in decoding words.
Associate the long and short sounds with common spellings (graphemes) for the five major vowels.
Know and apply grade-level phonics and word analysis skills in decoding words.
Know final -e and common vowel team conventions for representing long vowel sounds.
Use knowledge that every syllable must have a vowel sound to determine the number of syllables in a printed word.