Long and Short Vowel Activities Sort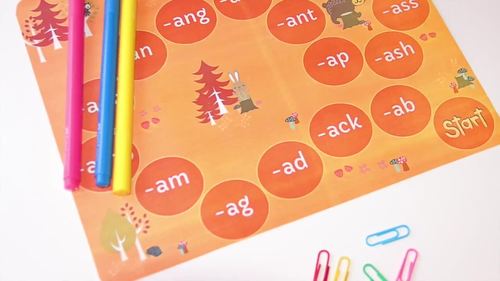 ;
Also included in
Struggling readers no more! Help students become more comfortable with reading word families words and rhyming. This huge packet is full of engaging hands-on phonics activities (PRINTABLE AND DIGITAL). Use during daily 5, guided reading, spelling, literacy block, RTI, or during literacy centers. **

Price $39.00

Original Price $62.00

Save $23.00
Description
Practice long and short vowels in a fun hands-on way. These board games are perfect to use all year round and especially in fall. Appropriate for pre-k, kindergarten, and first grade students. Use in/for: literacy centers, small groups.
SAVE 27% AND GET THIS SET IN THE BUNDLE.
A description of how to use each of the board games is included!
What word families are practiced
✔ short A word families (-ab, -ack, -ad, -ag, -am, -amp, -and, -an, -ang, -ank, -ant, -ap, -ash, -ass, -at)
✔ short E word families (eck, -ed, -ell, -en, -end, -ent, -est, -ess, -et)
✔ short I word families (-ib, -ick, -id, -ift, -ig, -ill, -im, -in, -ing, -ink, -ip, -int, -it, -itch, -ilt)
✔ short O word families (-ob, -ock, -oss, -od, -og, -ong, -op, -ot)
✔ short U word families (-ud, -ub, -uck, -uff, -ug, -um, -un, -unk, -ump, -unch, -ung, -unt, -ush, -ust, -ut)
✔ long A word families (-ace, -ade, -age, -aid, -ail, -ain, -ane, -ake, -ame, -ase, -ape, -ate, -ay, -ave, -aze)
✔ long E word families (-eat, -eak, -eek, -eal, -eap, -ean, -eam, -ee, -eed, -eel, -een, -eep, -eet)
✔ long I and U word families (-ice, -ide, -ile, -ike, -ime, -ine, -ie, -ife, -ipe, -ire, -ite, -ive, -ude, -ue, -ute)
✔ long O word families (-oach, -oad, -oal, -oat, -oast, -obe, -ode, -oke, -ole, -one, -ope, -ose, -ote, -ow, -own)
YOU MAY ALSO LIKE
PRINTABLE
DIGITAL
LET'S CONNECT
✔ Get access to FREE resource library
Victoria @CrazyCharizma
P.S.
Don't forget to leave feedback and earn TPT credits.
Want your friend or the whole team to have and use this product|? Please buy a multiple license to share it with them. For school and school districts, buy this packet via TPT for schools.
Have questions? Feel free to email me or use the "Ask a Question" feature on TpT.
Report this resource to TPT
Standards
to see state-specific standards (only available in the US).
Demonstrate understanding of spoken words, syllables, and sounds (phonemes).
Recognize and produce rhyming words.
Count, pronounce, blend, and segment syllables in spoken words.
Blend and segment onsets and rimes of single-syllable spoken words.
Isolate and pronounce the initial, medial vowel, and final sounds (phonemes) in three-phoneme (consonant-vowel-consonant, or CVC) words. (This does not include CVCs ending with /l/, /r/, or /x/.)