Lord of the Flies Unit Plan, Literature Guide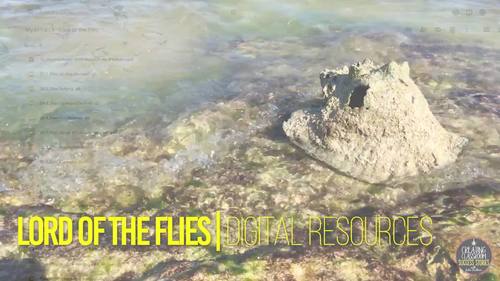 ;
Zip

Google Apps™

Internet Activities
Includes Google Apps™
The Teacher-Author indicated this resource includes assets from Google Workspace (e.g. docs, slides, etc.).
What educators are saying
Has everything you need! Open and go, but also more than enough activities from which to pick and choose.
This is an amazing resource! There are several engaging activities perfect for students with learning disabilities. Looking forward to using it again!
Description
In this 4-5 week literature teaching guide for Lord of the Flies, Golding's captivating writing style along with the fast-paced plot and richly dynamic characters will captivate even your most reluctant readers. The novel is apocalyptic and savage - a howling microcosm of human society and the evils that tear it apart from within. It's most definitely a novel that today's teens need to experience... and enjoy! This low prep, standards-based unit plan is designed to take your students through Lord of the Flies in a way that the novel comes alive.
Student Experience: Students study and dig into the text with the carefully crafted questions on the active reading guides, and you will be confident that key standards are being addressed. From the modern connections provided such as a Tweet for Me summarizing exercise to the informational text readings that bring in the psychological and historically significant side of the novel, students will recognize the importance of this text as critical in their world. Several classic poetry pairings drive your students toward thinking about the novel's poignant themes in the characters' lives as well as their own. Various other interactive, hands-on, and creative activities will provide you with many ways to engage your students and have them take ownership of their own learning in this three to four week unit plan. All the basics are here, too: reading quizzes, grammar worksheets, journal prompts, vocabulary, final exam, and final project prompts. You can use it all or just use some. This unit in its entirety touches every CCSS writing standard, many literature and info text standards, digital media standards for speaking and listening, and several language standards. Each resource is matched with its standards throughout the pack. Whether students are learning vocabulary words, close reading textual excerpts for literary significance, making text to text or text-world connections through various paired texts, role playing different scenarios, designing 3D maps of the island, or discovering and being rescued from their own beasts within, this unit is jam-packed with resources to bring this classic novel in a modern classroom and make it relevant to teens today - in hopes they will be able to consider and recognize the monsters within and without. It's classroom-tested and proven to give teachers what they need and students what they want.
Included:
Pre-reading Paired Text (PDF and Digital with Google)
Pre-reading Survival Quiz and Craft (PDF and Digital with Google)
Pre-reading Intro Slides (PPT)
Chapter 1 Focus Activity: Make a 3D Map of the Island (PDF and digital)
Chapter 2 Focus Activity: Paired Text on Bullying (PDF and digital)
Chapter 3 Focus Activity: Dystopia v. Utopia (PDF and digital)
Chapter 4 Focus Activity: Paired Poem "We Didn't Start the Fire" (PDF and digital)
Chapter 5 Focus Activity: Codes of Conduct Seminal Texts Deep Dive (PDF and digital)
Chapter 6 Focus Activity: Paired Text on Psychology (PDF and digital)
Chapter 7 Focus Activity: Paired Poem on Innocence (PDF and digital)
Chapter 8 Focus Activity: Allusions, Beelzebub (PDF and digital)
Chapter 9 Focus Activity: Paired Text on Mob Mentality (PDF and digital)
Chapter 10 Focus Activity: Paired Poem on Darkness (PDF and digital)
Chapter 11 Focus Activity: Paired Poem "We Wear the Mask) (PDF and digital)
Chapter 12 Focus Activity: Theme and Quote Sorts (PDF and digital)
Vocabulary practice and quiz for every chapter (Word)
Comprehension graphic organizers with text-based questions for every chapter with answers (editable PPT and digital format with Google)
Quizzes for each chapter (short answer PPT format and multiple choice self-checking digital with Google)
Figurative language worksheets for every chapter with answers (PDF and digital with Google)
Grammar workouts with answers, editable
Characterization studies for Jack, Simon, Ralph, and Piggy with answers (PDF and digital with Google)
Close reading with paired ELA skill for every chapter with answers (PDF and digital with Google)
Role playing prompts
Interactive Plot Review Game (editable PPT and digital with Google)
Final Exam, Multiple Choice (editable Word and self-checking digital with Google)
Short Research Project and Presentation on Real-life Survivor Stories, editable
Essay Topics Menu Board for each mode
Short Prompts for Each Chapter (editable PPT and digital format with Google)
Teacher materials: essential questions, daily planner, chapter summaries
Three coloring sheets
Summary sketch notes (editable PPT and digital format with Google)
Frequently confused words maze game (editable PPT) and quiz (editable Word)
Symbols tracker for each chapter with answers (editable PPT and digital format with Google)
Bookmarks and Classroom Posters with original island photography
Classroom Success Stories from Teachers Who Have Tried This Resource:
♥ "Top notch resource! I had requested a LOTF unit after seeing that mine needed a facelift. This is an excellent resource to add to my already existing unit to make the novel fun again!"
♥ "Once I purchased, printed, and taught, my students were already making connections from the book to their own life. This unit is relevant and engages them to think! They enjoyed many of the activities provided; and I sincerely appreciated the download organization and common core display for each activity. Thank you, Julie! You're awesome!"
♥ "These worksheets are pleasing to the eye and the questions do a great job of having the students think deeply about the text. I highly recommend this packet. "
♥ "I just finished teaching this unit, and I am delighted with the lesson variety. My students commented over and over how much the character pages helped them. I chose several of the "craftivity" ideas, and my sophomores loved them."
♥ "Great material, it can be adapted to many levels of learning. This unit works well with my other material as I am always trying to get students to do text to self connections. The arrangement of material engages the students - the text to text pairing is great as well. I recommend this unit - everything is ready to go, made my planning a lot easier!"
♥ "I love all the activities in this product. They help the kids make a connection between the text and real life. There are so many DIFFERENT kinds of activities from which to choose which go beyond the same old "questions/answers" worksheets. I love it!"
Interested in more of my literature units? Take a look at these:
American Literature Full Curriculum
I Know Why the Caged Bird Sings
Be the first to know about my new discounts, freebies and product launches. Look for the green star next to my store logo and click it to FOLLOW ME. Presto! You will now receive email updates about my store.
For more ideas and inspiration:
Julie's Classroom Stories on Instagram
Julie's Classroom Stories on Facebook
Teaching Middle and High School English Facebook Group
Yearbook and Journalism Facebook Group
Terms of Use: This purchase is for one teacher only. This resource is not to be shared with colleagues or used by an entire grade level, school, or district without purchasing the proper number of licenses. This resource may not be uploaded to the internet in any form, including classroom/personal websites or network drives. Art and images documented inside of file. Created 2016, Updated 2022
Teaching Duration
1 month
Report this resource to TPT
Standards
to see state-specific standards (only available in the US).
Read closely to determine what the text says explicitly and to make logical inferences from it; cite specific textual evidence when writing or speaking to support conclusions drawn from the text.
Determine central ideas or themes of a text and analyze their development; summarize the key supporting details and ideas.
Analyze how and why individuals, events, and ideas develop and interact over the course of a text.
Interpret words and phrases as they are used in a text, including determining technical, connotative, and figurative meanings, and analyze how specific word choices shape meaning or tone.
Analyze the structure of texts, including how specific sentences, paragraphs, and larger portions of the text (e.g., a section, chapter, scene, or stanza) relate to each other and the whole.