Lost Property. Video Lesson. Alzheimer's . ESL. EFL. Character. Elderly.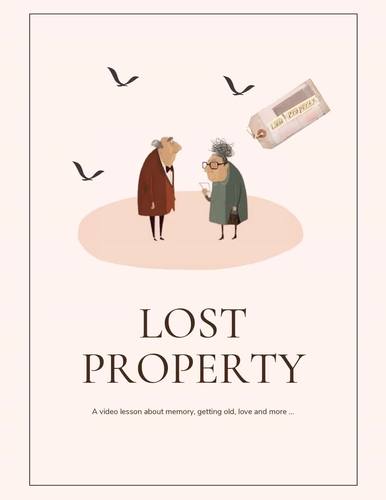 ;
4

th

- 12

th
,
Higher Education
,
Adult Education
,
Homeschool
Easel Activity Included
This resource includes a ready-to-use interactive activity students can complete on any device. 
Easel by TPT is free to use!
Learn more
.
Description
Materials and lesson resources for the beautiful animated short film - Lost Property.
Pre, During and Post watching activities and questions.
Don't tell the students it is about Alzheimer's. After doing the activities, see if they can put together the real story of Jan and Helen.
1. Pre-watching Questions.
2. Vocabulary, sequencing during watching.
3. Video response questions
4. Writing - retell the story.
5. Writing prompt - write a letter to an elderly person
6. The elderly. Discussion question set
7. Answer key and suggested answers.
You'll love this story! A must and lots of other ways to use this video. Top of the top.
ESL, EFL, ESOL, elderly, video, moral, memory, watching, relationships, love, worksheets, learning English, printables, teaching English, vocabulary, homework, blackline master, powerpoint, pdf, book, examples, tefl, tesol, video, lesson, spelling, reading, writing, presentation

*****************************************************************************
View Other Great Teaching Resources
The Top 100 Youtube Videos for teaching English + Resources
Get Speaking Conversation Cards
Beginner English Vocabulary Worksheets / Flashcards
This or That. Get to know each other worksheets
Funny Stories. Vol 1 (audio) Vol 2
Guess The Sound
Warmer Activities Bundle
Get Talkin' - Conversation Gambits
*****************************************************************************
Teaching Duration
50 minutes
Report this resource to TPT
Standards
to see state-specific standards (only available in the US).
Prepare for and participate effectively in a range of conversations and collaborations with diverse partners, building on others' ideas and expressing their own clearly and persuasively.
Make strategic use of digital media and visual displays of data to express information and enhance understanding of presentations.
Adapt speech to a variety of contexts and communicative tasks, demonstrating command of formal English when indicated or appropriate.
Apply knowledge of language to understand how language functions in different contexts, to make effective choices for meaning or style, and to comprehend more fully when reading or listening.