Lu Novel Study/Teaching for Tolerance/Reading Comprehension Bundle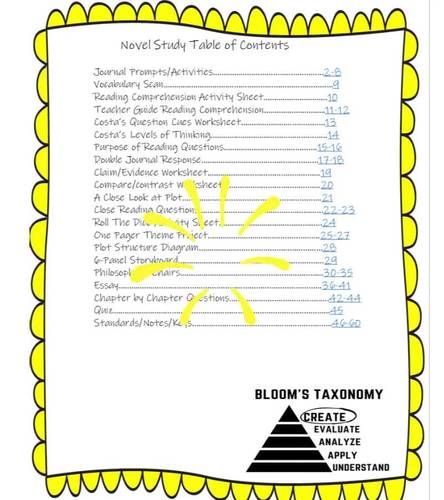 ;
Google Slides™
Includes Google Apps™
This bundle contains one or more resources with Google apps (e.g. docs, slides, etc.).
Products in this Bundle (3)
Bonus
Teaching For Tolerance Stations Activity
Description
Lu Jason Reynolds includes all lessons necessary for a successful novel study unit including test, questions, activities, essay, worksheets, journal responses, etc. It includes a Novel Study, tolerant teaching stations activity, cultural goggles poster and reading comprehension questions. This bundle will provide your students lessons with rigor and creativity built on best teaching practices.
Featured:
1. Lu Novel Study
Philosophical chairs
Essay:
Prompt
Outline
Rubric
Peer edit
6-panel storyboard
Vocabulary worksheet
Costa question cues worksheet
Sentence starter worksheet
Reading comprehension questions
Double journal response
Visualization worksheet
Chapter questions with key
Compare/contrast worksheet
Cause/effect worksheet
One-pager theme project
2. Cultural Goggles Assignment aims to eliminate our cultural bias so we can live and work cooperatively and collaboratively with one another. Students choose 4 areas in their lives that may have an impact on their cultural bias and create a poster for all to see. They place their categories such as friends, family, school, religion, military, etc. and take a close look at how it affects the world in which they see it. This is a one poster assignment template.
3. Bonus Assignment: Teaching Tolerance Stations Activities: Students will learn that they are more biased than they thought when they take a bias test created by Harvard, watch an unforgettable poetry slam by a student about racism, learn about the "Whiteness Project" grapple with the Trolley Problem, watch a film called "Glory", and discuss "code switching". This is the bonus lesson.
4. Reading comprehension engaging slide show. Lu by Jason Reynolds Students reading comprehension is a 20-page-slide-show which can be used as a game, review or for new information. Implement this exciting, engaging lesson today!
To revisit The Teacher for Inclusion shop, please click HERE
*************************************************************************************************************
Related Products
⭐ Lu Novel Study/Teaching for Tolerance/Reading Comprehension Bundle
⭐ Lu Jason Reynolds: Novel Study/Reading Comprehension/Texting with Friends Bundle
⭐ Lu Jason Reynolds Reading Comprehension/Activities Slide Show
⭐ Lu Jason Reynolds Novel Study/Trauma Lesson/White Project Bundle
⭐ Lu by Jason Reynolds Novel Study/Answer Keys/Editable
Answer Key
Included with rubric
Teaching Duration
2 months
Report this resource to TPT
Standards
to see state-specific standards (only available in the US).
Demonstrate command of the conventions of standard English grammar and usage when writing or speaking.
Demonstrate command of the conventions of standard English capitalization, punctuation, and spelling when writing.
Apply knowledge of language to understand how language functions in different contexts, to make effective choices for meaning or style, and to comprehend more fully when reading or listening.
Determine or clarify the meaning of unknown and multiple-meaning words and phrases by using context clues, analyzing meaningful word parts, and consulting general and specialized reference materials, as appropriate.
Demonstrate understanding of figurative language, word relationships, and nuances in word meanings.