MAKING & KEEPING FRIENDS: Social Skills Friendship Counseling Lesson | Digital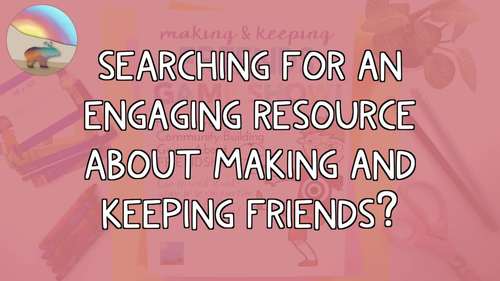 ;
Zip

Google Apps™
Includes Google Apps™
The Teacher-Author indicated this resource includes assets from Google Workspace (e.g. docs, slides, etc.).
What educators are saying
This game show resource accompanies well with some of my other resources about making and keeping friendships. Students are engaged and motivated to play the game shows!
I'm always looking for new ways to teach students about friendship. Students really loved the game aspect of this.
Also included in
Liven up your social emotional learning curriculum with these FUN, low-prep & interactive SEL game lessons perfect for your elementary classroom or school counseling program. From character education, social skills, career exploration, growth mindset, mindfulness, coping skills, and book compan

Price $79.50

Original Price $159.00

Save $79.50

Save tons of planning time and get your students excited about social emotional learning with WholeHearted's Storewide Growing Bundle! Grab over 140 effective and fun counseling and SEL activities and lessons at 50% off. And help your students to build healthy social emotional skills, such as self

Price $279.00

Original Price $548.00

Save $269.00
Description
Teach your students about making and keeping friends in this interactive social emotional learning lesson. Now includes both Google Slides™ and Power Point Presentation files, which allows you to use for SEL distance learning, teletherapy, virtual counseling groups, school counseling guidance and in person lessons.
Making and Keeping Friends Topics Covered Include:
*The value and importance of friendship
*Skills and assets that will help your students develop healthy relationships with others
*Tips on how to make and keep friends
Ways to Use The Making and Keeping Friends Game Show
☀Distance Learning ready
☀This FUN, interactive guidance lesson & game can be used as a stand-alone or review lesson on social skills.
☀Great for small groups.
What's unique about this community building lesson?
⭐The Game Show format is hands-on and experiential, with many of the challenges inviting students to role play.
⭐This guidance lesson & classroom game encourages reflective thinking, and is designed for students to show off and build on their smarts in different ways.
⭐Plus, the questions and challenges are 100% customizable so if you like, you can edit them to better fit your specific needs.
⭐It's low-prep, perfect for all you busy counselors and teachers!
⭐Counseling Lesson Plan is also included!
The Game Show Categories Include:
ACT IT OUT: teams act out / role play the challenge prompt.
TRUE or FALSE: teams decide whether the statement is true or false.
SKETCH IT: teams quickly draw their answers.
IMAGINE IF: teams answer "Imagine If" questions, using their imagination & problem solving skills.
RISK: teams take a "risk" because the type of question and/or challenge is not revealed until chosen.
What's needed to play The Game Show?
✔ It is best used with a Promethean White Board or projector that that can be hooked up to your computer if using in person
✔If using for distance learning, all players will need internet access. Best played when you can share your screen with students.
✔ Want to go screen-free? No problem! This Game Show also comes with printable task cards with the same prompts as the Game Show challenges.
Provides lots of flexibility....
Given that the GAME SHOW takes 40-60 minutes to play, and sometimes we just don't have that much time....or that the GAME SHOW works best projected on a large screen, and sometimes the technology breaks down....or that there are days when we walk into the classroom and just know that a whole classroom game is not going to fly that day....and sometimes students need more quiet, reflective activities......I have included more than 6 additional formats that do not require the use of the computer. (Note: the additional activities do involve some printing prep-work.)
Report this resource to TPT