MLA Lesson 9th Edition, Formatting In-Text & Works Cited, Complete Teaching Pack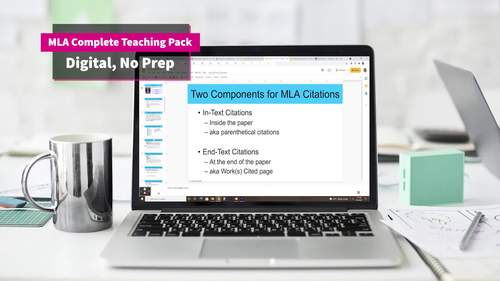 ;
7

th

- 12

th
,
Higher Education
,
Homeschool
Zip

Google Apps™
Includes Google Apps™
The Teacher-Author indicated this resource includes assets from Google Workspace (e.g. docs, slides, etc.).
What educators are saying
So comprehensive! This helped my students understand formatting so much better than they have in the past.
My students are just beginning to learn about MLA (they are 7th graders) and this was a great introductory resource.
Also included in
This research writing unit (which focuses on MLA 9th edition) is designed to give you the most complete set of materials you will need to conduct a unit on research. Each of my ELA skills "How to Teach It" Lesson Packs includes a teacher's guide lesson plan, an easy-to-use PPT lecture explaining t

Price $26.77

Original Price $38.24

Save $11.47

Set up your essay writing curriculum in a snap with these materials for narrative, explanatory, argumentative, and research writing. What is it? It's not only a bundle of my best-selling, classroom-tested units and resources for writing, but with this set of resources, you will have a full year's w

Price $130.70

Original Price $186.71

Save $56.01
Description
No more "boring" lectures on MLA! With this teaching pack, you get a variety of ways to present and practice MLA formatting. 9th Edition, Updated 2021
Student Experience: Begin by reviewing the basics of MLA structure and its importance. Then, as you teach, students will see examples and have a chance to practice the formatting of internal and extremal citations. Next, students will participate in an interactive, hands-on activity where they sort MLA citation information and become "human citations"! Last, students will demonstrate their understanding with the worksheet and/or multiple choice quiz provided. You'll also have posters for your classroom, and students can use the cheat sheets and researcher's log for success after the lesson with any research project they conduct!
Included here:
-Lesson plan
-Researchers' Log (editable PPT and digital format for Google)
-MLA presentation lecture (editable PPT and digital format for Google)
-MLA Internal and External Cheat Sheets (Great for any subject)
-MLA Rubric/Checklist (editable PPT and Google format)
-MLA Quiz (editable Word with self-checking Google form)
-MLA Practice Worksheet (editable Word format)
-Three classroom posters
-Human Puzzles for internal and external practice (editable PPT format and digital for Google)
Each of my ELA skills "How to Teach It" Lesson Packs includes an easy-to-use PPT lecture explaining the concept, guided practice, opportunity for collaborative and individual practice, and a form of assessment. Excellent for any subject!
Classroom success stories from other teachers who have tried this resource:
♥ "I really liked the game aspect of this resource. The students had to physically place the different parts of the MLA format in order with their bodies. This offered the class the opportunity to discuss and problem solve. The slides were great with the information provided!"
♥ "Early in the year I found that my students had no idea what MLA was or how to do it. This resource helped a lot to educate them as well as increase their knowledge when it came to writing their extensive research paper."
♥ "I don't know that I can say enough about this lesson. My junior and senior classes understand mla citations now. Everything was presented clearly and effectively. They really enjoyed the citation game. They were spread all over the room figuring it out. They were excited when they created the right citation, so much so that the groups who finished were eager to help struggling groups. The review activities and quiz are a great way to wrap up the lesson. When polled, 95% of my kids say they now understand and feel comfortable using citations."
♥ "Great resource! It is nice to have all the information so well organized. We will be doing research soon, and I think this will be very helpful."
Once you've conducted your MLA lesson, engage students and test their understanding with my NEW MLA Breakout Game! Click here!
Need some short and interesting research projects to practice these skills? See my full line:
Native American Creation Stories
Family Antiques Show and Tell FREEBIE
Be the first to know about my new discounts, freebies and product launches. Look for the green star next to my store logo and click it to FOLLOW ME. Voila! You will now receive email updates about my store.
For more ideas and inspiration:
Julie's Classroom Stories on Instagram
Julie's Classroom Stories on Facebook
Teaching Middle and High School English Facebook Group
Yearbook and Journalism Facebook Group
Updated 2021
Terms of Use: Please one classroom use only. Not to be shared online without proper security. Additional licenses sold at a discount at checkout.
Report this resource to TPT
Standards
to see state-specific standards (only available in the US).
Gather relevant information from multiple print and digital sources, assess the credibility and accuracy of each source, and integrate the information while avoiding plagiarism.