MULTIPLE INTELLIGENCES: BACK TO SCHOOL ACTIVITY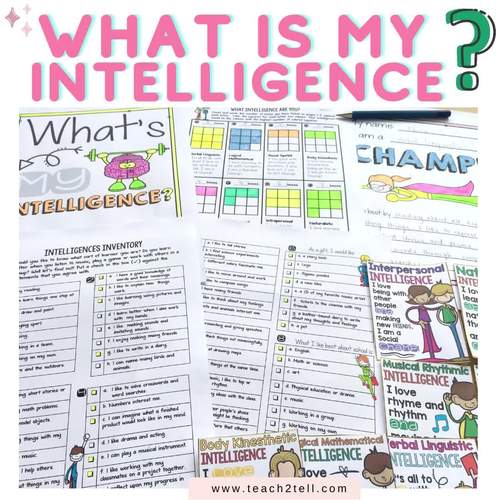 ;
Description
Do you know that probably one of the most effective ways to improve academic performance, maintain classroom discipline, and provide a holistic learning environment is to find out what your students' intelligences are and then target teaching accordingly? This activity will help you to do just that - not just you, but your students and also their parents will be intrigued to learn about the different kinds of intelligences first introduced by Howard Gardner in 1983.
*************************************************************************************************
ITEMS INCLUDED:
✅ 8 posters on the eight intelligences
✅ Intelligence Inventory x 4 sheets
✅ Reflection Sheet x 2
✅ 8 blank multiple intelligences title displays (type in students' names and insert photos)
✅ Cover Sheet x 1 (staple together with inventory and reflection sheets)
⭐ File with British English spelling included.
*************************************************************************************************
RESOURCE OVERVIEW
⚫ This pack has eight display posters on the eight intelligences. These posters can also be displayed on the interactive whiteboard to explain the eight intelligences prior to the 'What's Your Intelligence' activity. Alternatively, they can be displayed on the bulletin board alongside students' photographs after the activity. 8 blank color templates with each of the Multiple Intelligences titles are also included, simply type in students' names or insert students' photographs inside each editable template.
⚫ Also included in this pack is the inventory, 'What's Your Intelligence', whereby students tick or highlight the correct statements about how best they learn against criteria characteristic of the eight intelligences.
⚫ A follow-up to the inventory is an activity (2 options) that requires students to color the pictures or squares for each letter box ticked for the eight intelligences in order to determine their major intelligence. A final activity sheet sums up the kind of learner the student is after interpretation.
❤️ To reiterate, this activity is useful to inform teaching and learning. As educators, we can make a difference only if we know how students learn best. This would also be an invaluable resource to share with parents during Parent Teacher Conferences. Best of all, it would make a great keepsake in students' learning portfolios.
*************************************************************************************************
Related Products
⚫ EDITABLE CLASS DECOR BUNDLE: READING THEME
⚫ MEGA BACK TO SCHOOL CLASS DECOR BUNDLE {KIDS & ICE-CREAM CHEVRON}
⚫ CLASS DECOR: MEGA BUNDLE: SUPERHERO THEME: BACK TO SCHOOL
⚫ EMOJI (EDITABLE) CLASS DECOR MEGA BUNDLE
⚫ BOOK REPORT BUNDLE: FICTION AND NON-FICTION
⚫ CHANCE AND PROBABILITY BUNDLE: EDITABLE SLIDES:TASK CARDS:PRINT-N-GO SHEETS
⚫ HOLIDAYS AROUND THE WORLD SCAVENGER HUNT BUNDLE: HISTORY AND TRADITION
⚫ HOLIDAYS AROUND THE WORLD: QR CODE HUNT BUNDLE: HISTORY AND TRADITION
Report this resource to TPT