MUSIC SYMBOL BOOM CARDS™ Music Symbols Game Music Activity Google Classroom™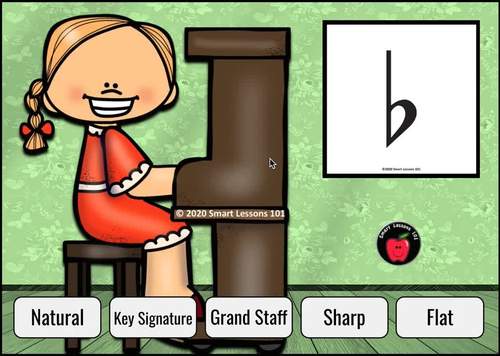 ;
Compatible with Digital Devices
The Teacher-Author has indicated that this resource can be used for device-based learning.
What educators are saying
This was really useful for me to assess where my were musically at the beginning of the year! It is also great for reviewing musical symbols after units!
Description
Music Symbol Boom Cards are a fast, easy and convenient internet activity perfect for distance learning, online music lessons or in your elementary music classroom! Teachers can post or assign this music activity in Google Classroom! Fast play mode allows students to practice and review musical symbols and terms with this fun music activity or use it for a quick and easy to administer assessment. This music symbol game will engage students by matching musical symbols with their terms! This product will reinforce musical skills needed for playing music and completing assignments or related worksheets.
RESOURCE INCLUDES:
· 21 Tempo BOOM CARDS℠
· Symbol matched to musical term
· Includes
Key signature, flat, natural, sharp, grand staff
Bass clef, treble clef, bar line, double bar line, repeat sign
Accent, fermata, staccato, slur, tenuto, tie
Time signature, common time, cut time, dal segno, coda
PREVIEW THE PRODUCT:
You may be eligible for a free trial from Boom Learning. Read here for details: http://bit.ly/BoomTrial. If you choose not to stay on a premium account after your free trial, you will still be able to assign all your Boom Cards to as many students as you see fit using Fast Play pins (which give instant feedback for decks that are self-grading).
BOOM CARDS™ are GREAT for:
*Independent work
*Group work
*Whole Class Engagement
*Competitive games
*Homework
*Music Centers
*Assessment / Quiz
*Test prep
PLAY BOOM CARDS on:
*Tablets
*Whiteboards
*Computers
*Laptops
*iPads
*iPhones
*Chromebook
WHY USE BOOM CARDS?
*Save hours of prep!
*No cutting!
*No laminating!
*No storage bins!
*Self-grading!
*Super fun!
RECOMMENDED FOR USE BY:
♫ General Music Classes
♫ Instrumental Classes
♫ Music Specialists
♫ Perfect for the Substitute (sub tub) / Supply Teacher
♫ Studio Teachers
♫ Homeschool
♫ Teachers and Parents with Minimal Music Background
To use Boom Cards, you must be connected to the Internet. Boom Cards play on modern browsers (Chrome, Safari, Firefox, and Edge). Apps are available for Android, iPads, iPhones, and Kindle Fires. For security and privacy, adults must have a Boom Learning account to use and assign Boom Cards. You will be able to assign the Boom Cards you are buying with "Fast Pins," (play provides instant feedback for self-grading Boom Cards). Fast Play is always a free way for students to engage with Boom Cards decks. For additional assignment options you'll need a premium account. If you are new to Boom Learning, you will be offered a free trial of our premium account. Read here for details: http://bit.ly/BoomTrial.
Boom Learning℠ and Boom Cards™ are the trademarks of Boom Learning Inc. Used with permission.
SALES & FREEBIES
Click HERE to be the first to see new products and FREEBIES and learn about upcoming sales!
FREE STORE CREDITS
Want to get Free store Credits? Click HERE to provide FEEDBACK!
♫ FREEBIES
BAG Recorder Fingering Boom Cards for Google Classroom TM
SMART THEORY NOTE NAME POSTERS
LINES ON THE STAFF Music Theory FREEBIE with Video and Reproducible
Winter Treble Clef Staff Paper FREEBIE
Groundhog Day Color by Rhythm Symbols FREEBIE
Rhythm Symbol Anchor Chart FREEBIE
♫ OTHER BOOM CARD PRODUCTS YOU MIGHT LIKE:
CATEGORIES: articulation, band activities, beginning band, Beginning band games, Boom Cards Distance Learning, Boom Cards, distance learning, elementary music, Elementary music activities, Fun activities, Fun stuff, music activities, Music assessment, Music band, Music boom cards, Music Centers, Music ed, Music Education, music games, music games for grade 3, Music lesson for sub, Music lesson plans K-5, Music lesson plans K-5, Music Lessons, Music sub plans, music sub plans for non music sub, Music symbols, Music symbol activities, Music symbol flashcards, Music symbol lessons, music symbol reading, Music Symbols for kids, Music theory assessment, music theory games, Musical terms, symbol activities, Music symbol assessment, symbol assessment elementary, symbol assessment for music, music symbol centers, Music symbol Game, Spring Music, Spring music activities, Spring music activities for kids, Spring music for kids, Spring Music games, Spring music lessons, spring music theory, Sub tub, Substitute Lessons, substitute plans, substitute teacher, Substitute teacher activities, Teaching Band, Teaching Theory, music distance learning, music at home, music boom cards, music google classroom, distance learning music, digital music resources, digital music games, band google classroom, band digital resources, Interactive music games, musical definitions, music for google classroom, band distance learning, distance learning elementary music, distance learning concert band, music distance learning boom cards, music distance learning interactive
Report this resource to TPT