MYP Maths Criterion B: 10 example assessments with teacher guide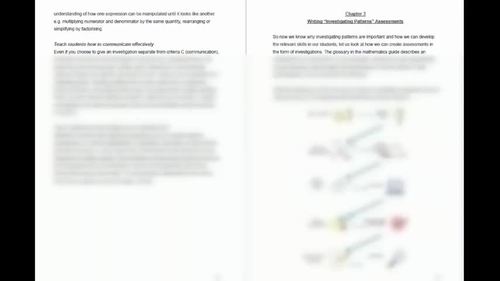 ;
Description
A teacher handbook with abundant resources resulting in a book that is essential for every MYP mathematics department.
With a particular focus on supporting teachers new to the IB Middle Years Programme, the first half can be viewed as a handbook or mini-course explaining the purpose of "Investigating Patterns" in the MYP, how to teach towards objective B, how to create criteria B assessments and how to standardise and grade these assessments. The book includes a helpful 10 step guide to creating a criteria B investigation and writes one alongside the reader. In the second half, there are 10 additional investigations which come with task-specific clarifications, rubrics, solutions and marking guidelines. They cover the four branches of mathematical study (numerical and abstract reasoning, thinking with models, spatial reasoning and reasoning with data), the three key concepts (form, logic and relationships) and all year levels (MYP1 - 5, including two examples for the extended classes in MYP 4 and MYP5).
This is a must-have for every MYP school as it can be used as a supporting tool for new teachers but also a reference or resource bank for the rest of the mathematics department.
Note: this book corresponds with the new maths course (2020/2021).
This work/product/service has been developed independently from and is not endorsed by the International Baccalaureate Organization.
Answer Key
Included with rubric
Report this resource to TPT