Maggie Walker and Arthur Ashe - PowerPoint, Reading Passages, and Sort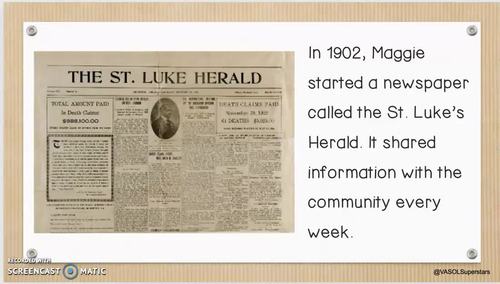 ;
What educators are saying
This was a very engaging and easy to use resource to teach our standards on these two famous Virginians. Thank you for creating such a great packet!
This is my 2nd year using this resource and it is a great activity to teach about influential people in Virginia!!
Also included in
Grab all of my first grade famous American resources in one bundle! These resources are designed around the VA SOLs for First Grade (1.2 and 1.3). They are also available as individual resources.I hope you find these resources helpful! I appreciate your feedback and ideas so please leave comments an

Price $12.75

Original Price $15.00

Save $2.25
Description
SOL 1.3 introduces first graders to two famous Virginians: Maggie Walker and Arthur Ashe. These two actually have quite a bit in common! This resource is newly updated to include a 24-slide Powerpoint presentation to assist with virtual and distance learning. The presentation digs deeper into the lives of Maggie and Arthur and includes engaging photos and questions to facilitate class discussion. Check out the video preview to see what the Powerpoint looks like!
This resource also includes a printable student book that teaches about both famous Americans and includes black and white photographs. Print a set for a guided reading group! I also included a one-page mini book for lower readers. This would be a great independent activity. Stick the mini books in student book boxes or send them home for extra practice!
After learning about Maggie and Arthur, there are a variety of activities for students to use to compare and contrast Maggie and Arthur. They can sort different ideas under the headings "Maggie Walker" and "Arthur Ashe" to solidify the ways that the two people are different (great partner activity!). Then, students can fill in a graphic organizer with information about how Maggie and Arthur are the same and different. One version includes scaffolded fill-in-the-blanks and one is empty so students can share their own ideas.
⭐️24-slide Powerpoint Presentation about Maggie and Arthur (non-editable)
⭐️6-page Printable Student Book with black and white photos
⭐️Maggie Walker Informational Text with Comprehension Questions (1 page)
⭐️Arthur Ashe Informational Text with Comprehension Questions (1 page)
⭐️Compare and Contrast Sort (use for scaffolding, partner practice, or as a review)
⭐️Compare and Contrast Blank Template (Students fill in own sentences--harder)
⭐️Compare and Contrast Guided Template (Students fill in the blanks--easier)
⭐️Simplified Mini Book (1 page, printer friendly)
I hope you enjoy this product!
TERMS OF USE - © VA SOL Superstars
This item is a paid digital download from my TpT store
https://www.teacherspayteachers.com/Store/Va-Sol-Superstars
As such, it is for use in one classroom only. This item is also bound by copyright laws. Redistributing, editing, selling, or posting this item (or any part thereof) on the Internet are all strictly prohibited without first gaining permission from the author. Violations are subject to the penalties of the Digital Millennium Copyright Act. Please contact me if you wish to be granted special permissions!
Report this resource to TPT