Magnets Science Experiment Make Your Own Compass PRINT and DIGITAL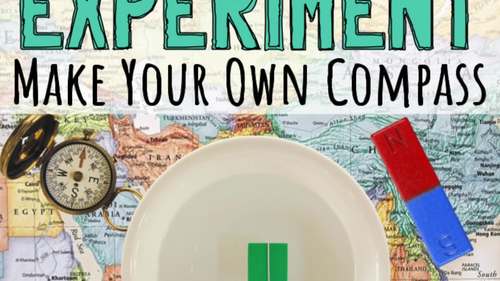 ;
PDF

Google Apps™
Includes Google Apps™
The Teacher-Author indicated this resource includes assets from Google Workspace (e.g. docs, slides, etc.).
Also included in
This bundle includes 10 hands-on science labs and activities all related to the Earth: rocks, fossils, minerals, crystals, tectonic plates, etc. This includes: Experiment: Modeling the Rock Cycle with StarburstExperiment: Modeling Tectonic Plates with Graham CrackersSTEM Challenge: Construct an Eart

Price $22.20

Original Price $37.00

Save $14.80
Description
In this science experiment, students make a working compass using a magnet and a bowl of water. They'll learn that Earth is like a giant magnet. Its iron core creates a magnetic field with a north and south pole. The needle of the compass is attracted to the Earth's north pole. Because of this, compasses can be used to find cardinal directions.
This resource includes:
teacher directions, discussion questions, and extension activities
background information about compasses and how they work
step by step instructions, with photos, to walk students through the experiment
a video demonstration of the experiment in action
a student response worksheet
a scoring rubric
a force copy link to a digital Google Slides version
Please follow my store here for more great resources!
You can also find me on Facebook, Instagram, and lafountaineofknowledge.com where you'll discover ideas, inspiration, and plenty of freebies! Or join my email list to get a monthly newsletter with exclusive FREE resources you can't get anywhere else!
Want free money to spend on Teachers Pay Teachers? Rate this product to earn some TpT credit! Leaving feedback helps us both out and takes less than a minute! Your support makes it possible for me to continue making and sharing great resources! Thank you!
Credits: Photos used with permission and sourced via from , , , , , , , , and . All other photos were taken by Shea LaFountaine of LaFountaine of Knowledge. The magnet clipart is by and the border on page 10 was created by , both used with permission. Fonts used include: Amatic SC by Vernon Adams and Coming Soon by Open Window. Fonts used with permission under open source licenses.  
Teaching Duration
45 minutes
Report this resource to TPT
Standards
to see state-specific standards (only available in the US).
Ask questions to determine cause and effect relationships of electric or magnetic interactions between two objects not in contact with each other. Examples of an electric force could include the force on hair from an electrically charged balloon and the electrical forces between a charged rod and pieces of paper; examples of a magnetic force could include the force between two permanent magnets, the force between an electromagnet and steel paperclips, and the force exerted by one magnet versus the force exerted by two magnets. Examples of cause and effect relationships could include how the distance between objects affects strength of the force and how the orientation of magnets affects the direction of the magnetic force. Assessment is limited to forces produced by objects that can be manipulated by students, and electrical interactions are limited to static electricity.
Ask questions about data to determine the factors that affect the strength of electric and magnetic forces. Examples of devices that use electric and magnetic forces could include electromagnets, electric motors, or generators. Examples of data could include the effect of the number of turns of wire on the strength of an electromagnet, or the effect of increasing the number or strength of magnets on the speed of an electric motor. Assessment about questions that require quantitative answers is limited to proportional reasoning and algebraic thinking.
Conduct an investigation and evaluate the experimental design to provide evidence that fields exist between objects exerting forces on each other even though the objects are not in contact. Examples of this phenomenon could include the interactions of magnets, electrically-charged strips of tape, and electrically-charged pith balls. Examples of investigations could include first-hand experiences or simulations. Assessment is limited to electric and magnetic fields, and limited to qualitative evidence for the existence of fields.
Define a simple design problem that can be solved by applying scientific ideas about magnets. Examples of problems could include constructing a latch to keep a door shut and creating a device to keep two moving objects from touching each other.