Main Idea & Detail Full Lesson Plans with Activities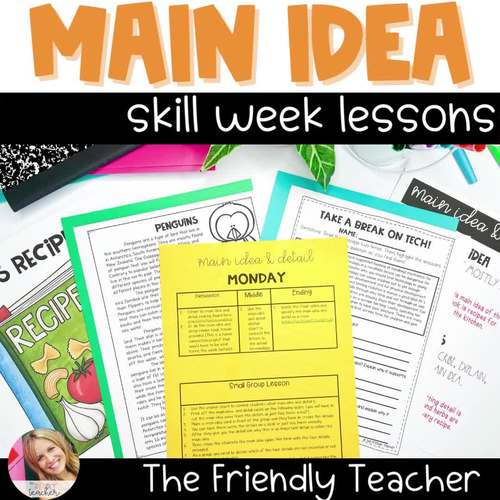 ;
What educators are saying
I loved this! THe students thought the recipe theme was cool and they loved the Ivan activity. It was very engaging
Amazing resource, as always! Love everything she creates. So detailed and laid out perfect for you to just copy and go! Also, such fun and engaging activities!
Also included in
Do you want your students to fully comprehend all of the reading skills that are taught for reading comprehension? This 17 unit bundle teaches each reading skill completely through engaging and rigorous lesson plans. This bundle includes 17 full-week units with whole group and small group lesson pla

Price $45.75

Original Price $91.25

Save $45.50
Description
A weeks worth of engaging lesson plans to teach main idea and detail with informational text. These lesson plans are designed to be low prep for the teacher, but keep your kids engaged and challenged the entire week!
There is a whole group and a small group lesson for each day, so that you can differentiate and reach each learner.
All the materials are provided, besides books. All the lessons are engaging, low prep, and rigorous for your upper elementary students.
Why these lessons?
- I saw that my students needed more engagement and relation to their real life in order to fully understand the skills, so I created these lessons to keep kids excited and involved the whole time.
- We start with a real life lesson, then practice as a whole group, work in a small group, work in partners, and finally work alone. We start with support on the skill and slowly take it away to really push the kiddos.
The lessons keep kids thinking the entire time and push them to reach their potential.
- These lessons just need to be printed, copied, and they are ready to go! Most activities require little work beforehand for the teacher which makes a teachers busy life easier!
The lessons include:
Monday- Whole group introduction lesson called "recipe book" OR "main idea cooking" to teach the term, plus an anchor chart and pixar to practice.
Tuesday- Learn a song, read "Ivan: The Remarkable True Story of a Shopping Mall Gorilla", and create a main idea and detail gorilla with a directed drawing.
Wednesday- CHEF DAY! Create chef hats, make a main idea recipe book, and play musical chairs with recipes!
Thursday- Watch a chefs video and do a reflection, do a partner project using books to create a poster of a good book recipe, and reflect on each others posters.
Friday- Go on a main idea scavenger hunt, read "She Persisted" and do a reflection writing. Then, give the assessment.
There is one small group lesson per day. You can do this with every group or just do the lessons you think the groups need. You differentiate them by what books you choose.
Monday: Matching main idea with their details. Then, deciding what details are essential and what are not.
Tuesday: Read a passage called "Penguins" and work on identifying the main idea and details.
Wednesday: Use a leveled book to find details, plus play main idea matching.
Thursday: Reread the nonfiction books and create a recipe of a good book to identify main idea and details.
Friday: Writing main idea paragraphs and reflecting on each others.
What are others saying?
Jennifer- My students had a great time learning about main idea. The recipe theme really helped them connect main idea to real life situations.
Diana- Great resource. I love that there are detailed lesson plans and different ideas for each day.
Allyson- I love the layout of the week and the different activities provided! Will be a great way to work on a tricky skill.
Report this resource to TPT
Standards
to see state-specific standards (only available in the US).
Ask and answer questions to demonstrate understanding of a text, referring explicitly to the text as the basis for the answers.
Describe in depth a character, setting, or event in a story or drama, drawing on specific details in the text (e.g., a character's thoughts, words, or actions).
Determine the main idea of a text; recount the key details and explain how they support the main idea.