Main Idea and Details Passages Graphic Organizers and Activities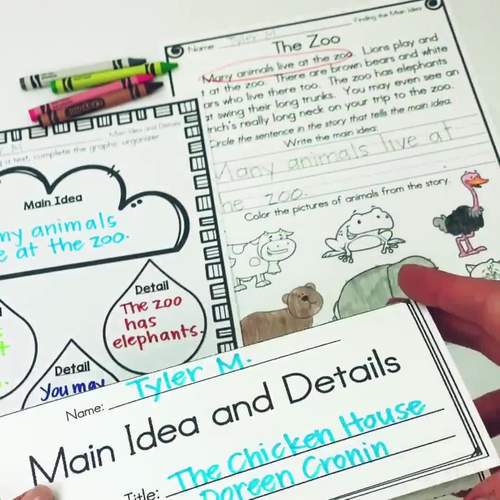 ;
What educators are saying
There are many different options within this resource and is visually dynamic for my students. I like that I can go to one resource and have so many options, thank you!
These activities were great to practice main idea and details. I also liked the graphic organizers included.
Also included in
Teaching main idea and details is so much fun when using the resources included in this bundle. The wide variety of activities allows for an engaging approach to introducing main idea as well as giving students ample practice in identifying and writing the main topic and supporting details. Differen

Price $36.00

Original Price $44.75

Save $8.75
Description
Main idea and details are a blast with this fun resource! This tough concept can be tricky for young learners, but with the included original song, cut and paste practice pages, graphic organizers, and other activities, your students will get the hang of it in no time at all!
Grab these and other fun main idea and supporting details activities for 20% off by clicking here!
This main idea and details resource is filled with many different ways for your students to practice these skills. The activities meet common core standards for several grade levels and can easily be differentiated for your learners.
The following activities are included:
An original Main Idea Song – Sung to the tune of "Frosty the Snowman"
Main Idea and Supporting Details Anchor Charts
Three graphic organizers
A foldable book for retelling after reading a text.
**Check out the pictures, the kids love this!**
Six different Read, Write and Color worksheets
Three cut and paste worksheets
Five graphic organizers where students read the main idea and then create the supporting details
Five graphic organizers for students to read the key details and then create the main idea.
Answer Key
You are going to love the wide variety of options included. There are tons of worksheets and activities for you to choose from when designing your main idea lessons. They are a great way to add some hands-on fun, to your reading lessons.
Teacher tested and approved!
⭐️⭐️⭐️⭐️⭐️- Elizabeth said "I was not getting through to my students an easy way to identify the main idea. This resource was Fabulous! The students were engaged and loving the simple short stories. THIS was what helped them get the main idea and supporting details easily! Thank you"
⭐️⭐️⭐️⭐️⭐️- Kristen said "This was SO helpful for my students! They were able to read the passages, identify the main idea and key details! This was a perfect introduction to the concept and my students really gained an understanding of how to do it in their own writing. The multiple graphic organizers were so helpful too and allowed students to easily translate what they learned into their own writing!
⭐️⭐️⭐️⭐️⭐️- Alyssa said "This has been the best purchase for teaching main idea! My students made great connections and enjoyed sharing their work with the class."
Please check out the preview for more details.
Thank you so much and enjoy!
**************************************************************************
For additional fun practice pages, check out:
and
and
*******************************************************************
Customer Tips:

Be the first to know about my new discounts, freebies and product launches:
• Click HERE to follow or look for the green star next to my store logo and click it to become a follower. You will now receive email updates about this store. ☺
How to get TPT credit to use on future purchases:
• Please go to your My Purchases page (you may need to login). Beside each purchase you'll see a Provide Feedback button. Simply click it and you will be taken to a page where you can give a quick rating and leave a short comment for the product. Each time you give feedback, TPT gives you feedback credits that you use to lower the cost of your future purchases. I value your feedback greatly as it helps me determine which products are most valuable for your classroom so I can create more for you. ☺
*****************************************************************************
Report this resource to TPT
Standards
to see state-specific standards (only available in the US).
Read closely to determine what the text says explicitly and to make logical inferences from it; cite specific textual evidence when writing or speaking to support conclusions drawn from the text.
Determine central ideas or themes of a text and analyze their development; summarize the key supporting details and ideas.
Analyze how and why individuals, events, and ideas develop and interact over the course of a text.