Maker Space Starter Kit Bundle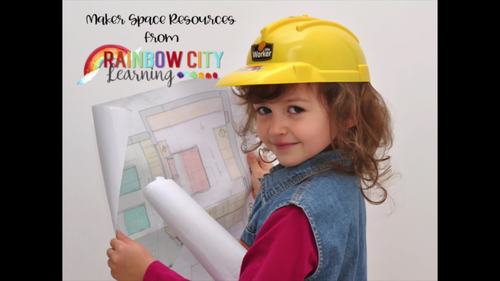 ;
Products in this Bundle (11)
showing 1-5 of 11 products
Description
Includes 6 complete activity units to work through as a class, as individuals, or groups. Lots of opportunities for scaffolding the instruction to meet differentiated needs of students!
All you need to get your class or school maker space started and to keep it in use throughout the year! Rated by teachers as "simply genius", "all you need", and "gorgeous resource with fantastic lessons"! This was the first ever Maker Space kit on TpT and is still the best way to roll out the maker movement for elementary students!
The video preview shows a variety of Maker Space materials that I have developed since posting this first kit. I hope you enjoy watching it and get some new ideas about Maker Space!
Start with the Invention SCOOT Game and then move on to the Maker Space Task Cards, which are included in this bundle. These are an easy to use and scaffolded way to begin. From there, use the handy lists for your STEAM boxes and donation letters, and dig into the units. As I have always had special needs students mainstreamed into my science and technology classes, these materials were developed by me with careful attention to differentiation and scaffolding.
It's always a good time to set up a space in your classroom where students can experiment, investigate, problem-solve, and design new inventions both collaboratively and independently.
What? A Maker Space in your elementary classroom? Yes! Bring it!
This bundle includes all you need to set up your Maker Space, and keep the momentum growing.
Follow Rainbow City Learning by clicking here!
Bring a fresh new center to your grade 3-6 elementary classroom, home school, or summer community program with this Maker Space Kit!
Principals and Administrators, please contact me for reduced rates for multiple licenses for a school or district.
You might also like:
Storybook STEAM: Growing Bundle
Science Close Reads for Any Science Text or Article
Science Performance Assessment: How Does a Flashlight Work?
How to get TPT credit to use on future purchases:
• Please go to your My Purchases page (you may need to login). Beside each purchase you'll see a Provide Feedback button. Simply click it and you will be taken to a page where you can give a quick rating and leave a short comment for the product. I value your feedback greatly as it helps me determine which products are most valuable for your classroom so I can create more for you. ☺
Be the first to know about my new discounts, freebies and product launches:
• Look for the green star near the top of any page within my store and click it to become a follower. You will then receive customized email updates about this store. ☺
Report this resource to TPT