Making Inferences Inferencing and Drawing Conclusions Activities for Winter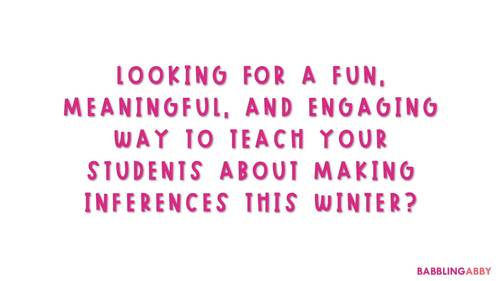 ;
What educators are saying
My students loved this activity. They were engaged and were able to get started right away. There were a lot of laughs throughout!
This is great! I absolutely enjoyed teaching my students inferences using this and they loved it as well. Thank you so much!
Description
Looking for a fun, meaningful, and engaging way to teach your students about inferencing this winter? This activity is perfect to do during the chilly months, or even in the weeks leading up to Christmas break since your students will be drawing conclusions from Snow Day clues! Your students will enjoy getting to investigate, infer, and make predictions based on various clues and evidence. A detailed lesson plan is included to help making planning this activity a breeze!
By investigating "Snow Day Case Files" students will sort through evidence to determine what the main characters in a mini-story did during a snow day. As "Inference Investigators," students are encouraged to make inferences based on the clues in the evidence. This is an excellent activity to teach inferencing and inferring.
My students absolutely LOVED feeling like inferencing detectives, as they examined the case files to determine the details of the snow day. I also loved seeing their creativity as they made inferences based on the text, clues, and schemas. It really was a fun activity for everyone!
This printable includes a 4-page, detailed lesson plan (with pictures) to allow you to successfully accomplish this activity with your students.
In addition to the lesson plan, you will find activity resources, a graphic organizer, recording sheets AND as a little bonus, several great *posters* for teaching inferring.
Please note, some "assembly" is required, as you will have to find the "evidence" to use in your case files!
Report this resource to TPT