Manners Advisory Lessons: Distance Learning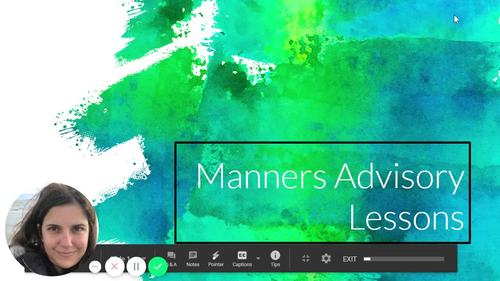 ;
What educators are saying
I used this with my freshman seminar class. It was well done and the videos in it helped. Saved me lots of time and it was good to use. Thank you.
Description
Great for Back to School or a Class Refresher! You can use these lessons as advisory lessons, sponge lessons, or individually as needed in your classroom. I wrote them with lots of interaction and activity that will keep your students engaged.
Included in this lesson set are:
5 lessons that will take about 15-20 minutes each
Lesson 1: What are Manners and Etiquette?
Lesson 2: Why Manners Matter
Lesson 3: Introductions
Lesson 4: School Manners
Lesson 5: Talking Etiquette
*Note: You can teach these lessons in ANY ORDER as they are stand alone.
Companion worksheets included for each lesson so students can follow along and interact with the power point content. I've included both PDF versions of the worksheets and a Google Drive version for those in 1:1 classrooms.
Report this resource to TPT