March Music Madness Game: Music Symbols Madness!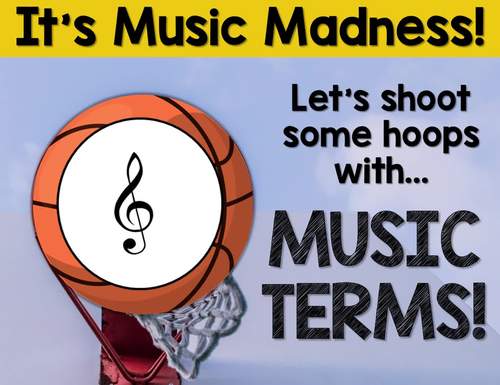 ;
What educators are saying
This was a fun way to review musical terms and concepts during the month of March! Thanks for the great, easy-to-use resource!
This was SO much fun to play in my choir classes! We stretched the different levels out over multiple days.
Description
This fun, ANIMATED game is a great music symbols and terms review and loads of fun! Perfect in time for March Madness! This music game is a fun activity for a non-music sub. Just press play and go! Student worksheet, study guide and answer key included! Appropriate for upper elementary and middle school music, including band, choir and orchestra.
♫ Watch the preview video to see the animated game in action! Click the green "Preview" button above! ♫
What's Included:
• PowerPoint Slide Show Game -32 slides total
• Student worksheet (32 blanks)
• Student study guide
• Answer key
• Also included is the game in mp4 version for those that prefer to watch in movie format
• the entire game is 7 min, 16 seconds without pausing
How to Play:
On each slide, music symbols or terms will fly or bounce in one at a time. Once the student has the answer, they will record it on their student worksheet. Answer keys are included for each game level. If your students aren't familiar with all of the terms, it is recommended that you give them an opportunity to use the study guide first. This is also great for a sub! If you don't want to use the study guide, simply have them skip the numbers that you haven't taught yet. The game does not include background music, but you may choose to play some action music in the background if you think you're students could still concentrate.
Ways to Use this Game:
Large class game- display game on your classroom projector screen for a large group. This game can be played with any number of students!
Student Assessment- because this game is "hands off" for the teacher, this allows you to move around the room during the game to see if any students need individual help.
Centers- have a computer set up in the room and let students work in pairs, rotating to this game as a station
Sub plan- use this game as a fun and easy sub plan! All the sub has to do is press play and go!
Competition- award students based off of how many answers they get correct. Or, even more fun-do this as part of a March Madness unit! Have one class compete against another class! The class with the most correct answers is the winner!
✅ FOLLOW US FOR UPDATES ON NEW PRODUCTS, SALES AND FREEBIES!
Feedback from Happy Customers:
⭐"My students really got into this!"
⭐"Excellent resource! Thanks! My kids loved this!"
⭐"I was excited to find a resource that is fun and that helps my students to learn their music symbols."
⭐"A fun and great way to get your music students "up to par" on music theory terms. This is a perfect game for my piano class students!"
⭐"This was a perfect activity to leave for a sub!"
Need more resources? Check out our money saving bundles:
Music Theory Games- Level 1 Bundle
Band Director Back to School Bundle
Interested in another animated game?
Winter Music Games: Note Name Speed Races
More helpful products:
∗ ∗ ∗ ∗ ∗ ∗ ∗ ∗ ∗ ∗ ∗ ∗ ∗ ∗ ∗ ∗ ∗ ∗ ∗ ∗ ∗ ∗ ∗ ∗ ∗ ∗ ∗ ∗ ∗ ∗ ∗ ∗ ∗ ∗ ∗ ∗ ∗ ∗ ∗ ∗ ∗ ∗ ∗ ∗ ∗ ∗ ∗ ∗ ∗ ∗ ∗ ∗ ∗ ∗ ∗ ∗ ∗ ∗ ∗ ∗ ∗ ∗ ∗ ∗ ∗ ∗ ∗ ∗ ∗
Follow Band Directors Talk Shop for updates on new products, sales, and freebies! (Just click the Green Star at the very top of our TpT store.)
If you have any questions, please feel free to email BandDirectorActivities@gmail.com - we are happy to help! Your feedback is important! Please let me know what you think by leaving a comment and earn credits towards future purchases from any TPT store!
Terms of Use:
This product is intended for personal classroom/band hall use only. Buyer does not have rights to share or distribute. The clip art in this document is copyrighted and may not be copied, removed or altered. Additional licenses will always be 50% off (purchase them in the TpT store). If you like this product and want to share it, please purchase the additional license, or purchase an additional license and split the cost of the total with a friend!
Keywords - band director, teaching band, music education, music ed, teaching theory, band games, orchestra games, choir games, music games, beginning band, beginning band games, advanced band games, music theory games, rhythm games, note values, note value games, band activities, orchestra activities, choir activities, music activities, back to school, instrumental music, elementary music, middle school band, March games, March music games, March Madness, March music activities, March music, Spring music activities, march music lesson, Spring music activities, Spring music lesson, band march madness, music madness, beginning band march madness, music march madness, sports music lessons, sports music activities, music basketball, Powerpoint music games, powerpoint music activities, animated music game, music games powerpoints
Report this resource to TPT