March STEM 13 Challenges St. Patrick's Day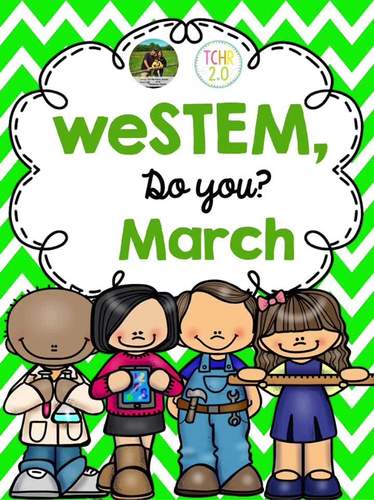 ;
Also included in
Are you a classroom teacher looking for a way to integrate STEM STEAM activities into your current curriculum? This is a bundle of STEM STEAM challenges to use in the spring during March, April, May, and June. It includes Completion Coupons that you can give to your students when they complete and a

Price $25.00

Original Price $50.00

Save $25.00
Description
Are you a classroom teacher looking for a way to integrate STEM or STEAM activities into your current curriculum? If so, this product might be just what you are looking for! This contains STEM and STEAM challenges to use during the month of March and a set of Completion Coupons to give your students once the activities are completed.
There are 13 activities for you to choose from. We have tried to include activities that will supplement what you are already doing in your classroom.
Chromatography
Mirrors and White Light
Rainbow Paper
Water Tension With a Penny
Potato Battery
Penny Bridge
Leprechaun Trap
Pattern Blocks
Toothpick Structures
Pi Skyline
Circle Art: Pi Day
Painting With Candy
Circle Creations
You could choose to focus on science, technology, engineering, or math with the different activities included in this monthly packet. All students could complete the same activity at the same time. Another idea would be to choose several activities and set them up like centers so students could rotate through each center. This would be a great way to utilize parent volunteers or older students, STEM Buddies!
Items included with this product:
The NG Engineering and Design Standards
STEM supplies information
Picture book suggestions for each activity
STEM activities
Colored pages to use for modeling on the SmartBoard
Student pages, many options to choose from that allow for differentiation
Full pages, Mini Book
weSTEM I can statement posters in color and black and white
STEM Completion Coupons - one for each activity
Bunting Banners weSTEM
STEM posters, one for each letter
Other STEM units that might interest you:
Thanks for your interest! Please consider leaving feedback.
TCHR Two Point 0
TCHR2.0
Teaching Duration
1 month
Report this resource to TPT