Marine /Ocean study and Animal units for Upper Primary SUB PACK ideas Worksheets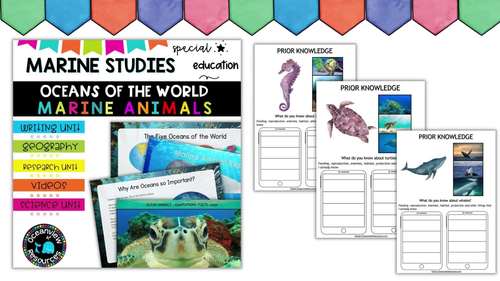 ;
Compatible with Digital Devices
The Teacher-Author has indicated that this resource can be used for device-based learning.
Products in this Bundle (3)
Description
Ocean life and Animals are such fun topics to teach. I love to plan my units of work so that they link across all curriculum areas making learning more authentic, engaging and relevant.
My resources are not a print and go resource, they are designed for you to create your own unit of work using the plethora of links and ideas included in the pack. Many months of researching the internet go into my planning of these thematic units, so that you will have hours of your precious time saved researching the topic
The Animal Unit
The Year 6 booklet is a unit of work designed for you to create a series of lessons based on the theme of animals. This is such a popular theme, but can be explored at a deeper level with older students.
Links are provided to explore Animal welfare issues, the role of Zoos and human impact on the animal kingdom.
These links will incorporate videos, online games, web quests and research tasks.
Adapt the lesson suggestions and ideas to suit your needs and the needs of your students.
Have fun, and 'wow' kids with some fantastic videos and games to support the themes presented in the wonderful story 'the Great Bear' by Libby Gleeson.
The theme of animals in circuses could spark some lively debate and lots of persuasive writing. It is a wonderful book to use as a focus for visual literacy too.
Ocean Life/Sea Unit
The Island, by John Heffernan is a wonderful story about a blind boy who sees the beauty of the island he lives on, while the people around him cannot see it. A fantastic story with a link to a narration by the author. This book is the stimulus resource chosen for the Sea them to be used with Literacy.
Some great links to accelerated literacy activities, and the theme of this booklet investigates our oceans and the threats to our marine life.
I have incorporated many links across all KLA's to support the teaching of this wonderful themed unit of work,
A fully interactive timetable links to my pinterest board. so that essentially this is a resource that will continue to grow
A free resource from GoTeachThis and Ripper Reading Resources, makes this amazing value for money and such a time saver.
A fantastic addition to any substitute teachers' library for planning units. Many hours of exploring the internet are researched in this compilation so that you are free to adapt them to suit your teaching style and the needs of your students.
---------------------------------------------------------------------------------------------------------------
What will I recieve in this bundle?
✅Links across all subject areas to a host of free resources and activities readily available on the internet
✅A brilliant free game from my collaborator Adrian Bruce- The Butter fly game is a great way to practice 9 times table and division facts. His game of CLOBBER, found in the Animal themed unit, will encourage your students to practice their 6 X tables and division facts, and have fun at the same time. Teaching notes and extension actvities are supplied with each game
✅ Suggested timetable with clickable links to my Pinterest boards for each subject area. Plenty of inspiration to be found (All linked to themed boards)
✅Spelling lists and activities, alongside a range of online sites to practice them. Spelling games and ideas to reinforce and consolidate list words
✅A free dice spelling game from my wonderful collaborator from Ripper Reading Resources.
✅Explore animal protection and animal welfare with the links provided in the Animal Themed unit
✅BONUS Classroom management guide and Attention getters book
See the PREVIEW download for sample pages
Related Products
• Animal Themed Decor Pack- ABC FONT Editable
• Animal Themed Decor Pack- NSW Foundation Font (Back to school )
• Kindergarten - Sea Themed Cross Curricular Unit
• Kindergarten Sea and Animal Themed Bundle
• Kindergarten, Year 1, Year 2 - Animal Themed Cross Curricular Unit (Bundle)
• Kindergarten, Year 1, Year 2 - Sea Themed Cross Curricular (Bundle)
• Kindergarten-Animal Themed Cross Curricular Unit
• Sea Themed Decor Pack- NSW Foundation Font (Back to school )
• Year 1 - Sea Themed Cross Curricular Unit
• Year 1 Sea and Animal Themed Bundle
• Year 1-Animal Themed Cross Curricular Unit
• Year 2 - Sea Themed Cross Curricular Unit
• Year 2 Sea and Animal Themed Bundle
• Year 2-Animal Themed Cross Curricular Unit
• Year 3 - Sea Themed Cross Curricular Unit
• Year 3 Sea and Animal Themed Bundle
• Year 3, Year 4 - Animal Themed Cross Curricular Unit (Bundle)
• Year 3, Year 4 - Sea Themed Cross Curricular Unit (Bundle)
• Year 3-Animal Themed Cross Curricular Unit
• Year 4 Sea and Animal Themed Cross Curricular Bundle
• Year 4 - Sea Themed Cross Curricular Unit
• Year 4-Animal Themed Cross Curricular Unit
• Year 5 - Sea Themed Cross Curricular Unit
• Year 5 Sea and Animal Themed Bundle
• Year 5, Year 6 - Animal Themed Cross Curricular Unit (Bundle)
• Year 5, Year 6 - Sea Themed Cross Curricular Unit (Bundle)
• Year 5-Animal Themed Cross Curricular Unit
• Year 6 - Sea Themed Cross Curricular Unit
• Year 6-Animal Themed Cross Curricular Unit
• k-6 Bundle 7 "Under the Sea" themed booklets
ocean | sealife | under the sea | sea life | ocean life | information reports | report writing | ocean life | non fiction writing | close read | ocean life texts | thematic unit | labelled diagram | labelled diagram | foundation | kindergarten | grade 6 | | report writing | information books | ocean | sea life | ocean life | living things❘ animal welfare❘ animal habitat ❘
Report this resource to TPT