Martin Luther King Jr Craft - I HAVE a DREAM QUILT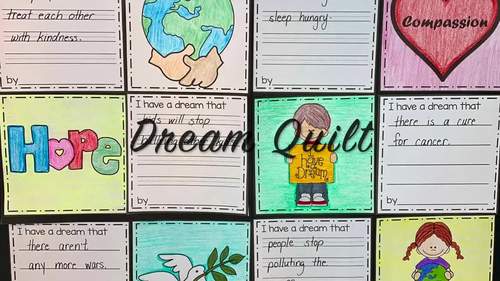 ;
Description
Related Products
Are you looking for an activity to celebrate Martin Luther King Day? Would you like a great Black History Month bulletin board ?
This print and use craft project is based upon the "I Have a Dream" speech.
Your class can honor the spirit and legacy of Dr. Martin Luther King, Jr. by writing about their dreams for a better world.
❤️ Here's What Teachers Are Saying: ❤️
"Just what I needed, Awesome resource, my students enjoyed this activity! Thanks" ~ DeNett
"A beautiful project to work on together and display for MLK day." - Tina K
"Great resource! Easy to use and my students loved it!" - Jennifer W
Here's How It Works:
Students choose 2 thematic graphic squares to color.
The student writes their dreams on 2 writing blocks.
The four squares are glued onto construction paper to create a paper quilt!
Turn Into A Bulletin Board
Students can create individual quilts or you can combine several to make a class quilt.
What's Included in This Resource:

⭐16 different thematic graphic squares

⭐2 different lined writing squares

⭐2 blank squares which can be customized with their own designs
Be sure to check out the VIDEO Preview!
Print and Use!
Your class will enjoy this project to celebrate the life and legacy of Dr. Martin Luther King, Jr.

You Might Also Like:
❤️ Kindness Bulletin Board PBIS
❤️ 3 March Crafts - Easy Projects
❤️ Chinese New Year - Chinese Zodiac Animals Craft
❤️ Groundhogs vs. Prairie Dogs Animal Studies & Food Chain
❤️ Mother's Day Craft & Writing Prompts
❤️ Rechenka's Eggs - Patricia Polacco - Interactive Read Aloud Lesson Plan
❤️ Snowmen At Work - A Book Companion
❤️ Valentine's Day Craft - Shades of Meaning
❤️ Winter Writing Prompts & Activities
♥ ♥ ♥ ♥ ♥ ♥ ♥ ♥ ♥ ♥ ♥ ♥ ♥ ♥ ♥ ♥
I hope you find this resource beneficial in your classroom.
Please remember that these activities are for just you and your students.
If you would like a copy of this product for more than one teacher, please download additional licenses, available at a great discounted price.
Electronic distribution is limited to SINGLE classroom use only. Do not post this product electronically in ANY form. Do not copy or sell any part of this product. To do so violates the Digital Millennium Copyright Act.
Copyright © Alison Monk All rights reserved the author.
The Literacy Garden LLC
For more ideas and teacher tips:
♥ The Literacy Garden on Pinterest
♥ The Literacy Garden on Instagram
♥ The Literacy Garden on Facebook

♥ The Literacy Garden is committed to designing resources that help students grow in ELA proficiency and become successful readers and writers. I'd love to hear how this resource worked with your class!
Report this resource to TPT