Martin Luther King Jr Writing Craft and Story Activity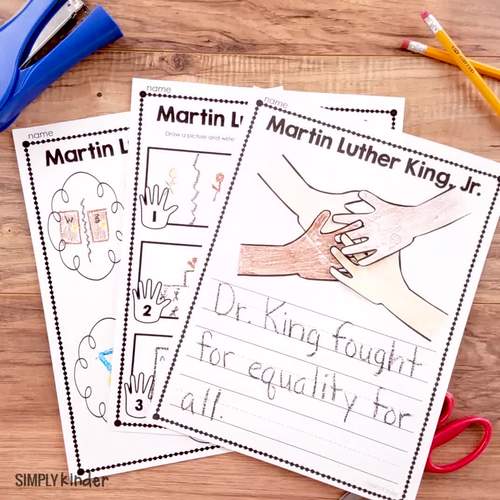 ;
Description
Martin Luther King Jr Writing Craft and Story Activity
Get this part of a bundle and save: Cut-and-Glue Writing Bundle
⭐️⭐️⭐️⭐️⭐️"What a wonderful craft idea not only for Martin Luther King but also in regards to equality and diversity."
Included in this download is:
several graphic organizers to plan your story
two writing page options
craft to glue onto writing page
More Teacher Reviews & Ideas:
⭐️⭐️⭐️⭐️⭐️ "I combined this with an art activity. The students had to mix paint to match their skin tone. Then they used their paint and some of their classmates paint to paint the hands on the paper. They loved it! They were so engaged, their writing was even better."
⭐️⭐️⭐️⭐️⭐️ "The students made these and talked about MLK while they created them. They made a nice hallway display! I pre- printed small photo of MLK to place in the center."
Check out these MLK resources from Simply Kinder:
Martin Luther King Jr. Printables! Both are great for MLK Day! Vocabulary pages, close reads, graphic organizers, writing pages and TONS of literacy and math activities using MLK images!
You might also like these JANUARY resources:
You might also like these Top Selling Kindergarten Resources:
Stay up to date with all things Simply Kinder:
✅ Get our emails with weekly FREEBIES, special offers, & teaching ideas
✅ Follow us on Teachers Pay Teachers
Jennifer Kadar - Simply Kinder - Kindergarten - First Grade - Preschool
© Simply Kinder, LLC
For questions please email Hello@SimplyKinder.com.
Report this resource to TPT