Mastery Club Challenges for Fast Finishers Excellent Early Finisher Activities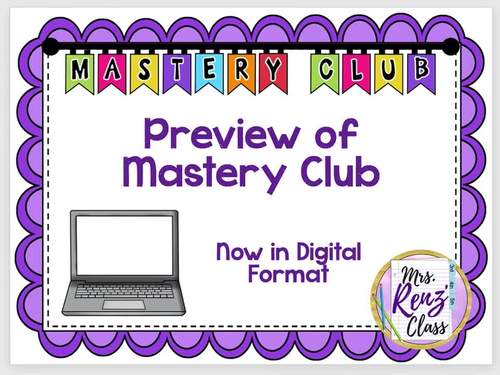 ;
Compatible with Digital Devices
The Teacher-Author has indicated that this resource can be used for device-based learning.
What educators are saying
i love this resource!! So fun and engaging for kids to work on at their own pace. They enjoy the variety of topics of study.
My students (and parents!) love this bundle. It gives them a choice in what they want to learn and challenges my high-flyers. Could not say enough good things about this set! Thank you!
Description
Do you have fast finishers who need enrichment activities? Challenge your early finishers to get their name on your Wall of Fame! It's the perfect self-led free time activity that you will use every year with huge success! Students LOVE choosing their own independent tasks! Best yet, set it up for the year and you are ready for EVERY year!
Mastery Club was one of my most powerful tools to provide challenges for early finishers. Classroom management was a breeze because students liked the freedom to choose what and when they wanted to learn. Mastery Club is THE best set of fast finisher activities that students and parents will remember from their year with you!
HOW THE CHALLENGES WORK
There's 86 challenges in the areas of social studies, science, language arts, math and miscellaneous topics
You post challenges on the wall or use the Mastery Club journals or Online digital version.
Students work on their challenges anytime they're finished with instruction
Students use references and online links to learn answers and each challenge mastered they become "1 Star Member" all the way to an "86 star member."
When 16 challenges have been mastered, students become members of the "Hall of Fame."
It's EDITABLE! Add or change the challenges if you want! You're in charge!
Why Students Love Mastery Club
It's student-centered and student-led
Students choose the subjects and tasks they are interested in
Tasks can be completed in any order
Students work to get their name on the Hall of Fame and earn an award certificate
They can work on their challenges when their work is finished at school AND at home
They find answers to topics that interest them
Students feel great when their peers notice them achieving
They LOVE using their own books and using my MC website to find answers
Students learn what they want when they want
Why Teachers Love Mastery Club Even More
You will never hear "I'm bored" again! (Huge win!)
You also won't hear, "I'm finished not what do I do?"
Students KNOW what to do when they're finished
You'll set it up ONCE and use it EVERY YEAR until you retire!
It's EASY to manage! You won't have to explain to students or a substitute how to run it. Everyone KNOWS and it runs in the background all year.
You can customize the challenge program to fit your teaching situation anywhere
Mastery Club challenges EVERY student so you can easily differentiate.
ALL students can experience success and it boosts self esteem
You can use the PRINT and/or the DIGITAL version
It's PERFECT for distance learning
The material is NOT grade level specific,
Students track their own progress and determine their route through the challenges in this self-directed program.
You can recognize students with Mastery Club awards at the end of the year
VISIT MY WEBSITE TO SEE THE CHALLENGES!
You will receive the password for students to access all of the links in your purchase. Links are chosen for elementary students. Students aren't limited to my website links! They can use ANY references they wish.
Mastery Club DIGITAL Versions (You will upload these to your Google Drive)
• Student response sheets in Google Slides-Ready PowerPoint format with text boxes ready for students to type into
• Digital answer key in Google Slides-Ready PowerPoint format
Mastery Club PDF Documents:
• Password to access the student website links
• Quick Start Teacher Directions
• Quick Start Photos
• Detailed Teacher Directions
• Teacher Answer Keys
• Challenge Questions
• Student Answer Worksheets in full page and half page size - for the crate
• Student Data Tracking Materials
• Teacher Grade Book Chart
• Hall of Fame Wall Posters
• Questions on Wall Posters
• Award Certificates-Print & Use
• Labels-File Folder Tabs & Student Journals
Mastery Club EDITABLE Materials (PowerPoint and MS Word):
I give you LOTS of editable choices in this set so you can customize it to fit your needs. You also have permission to change the name of the club and personalize Mastery Club to meet your needs!
• Answer Keys - Make Your Own
• Answer Sheet Generic - Full Page & Half Page
• Award Certificate
• Challenge Question Wall Posters
• Challenge Questions
• Hall of Fame Wall Chart Options
• Labels-File Folder Labels
• Labels-Student Journals
• Parent Letter Explaining Mastery Club
• Student Letter Explaining Mastery Club
• Student Record of Achievements
• Student Answer Worksheets - Add Your Own
• Teacher Grade Book Chart
Enjoy these challenges for ALL of your learners with these independent assignments!!
DISTANCE LEARNING NOTE: You have permission to use the PowerPoint Google-Ready digital version of Mastery Club to upload to your Google Drive for use with Google Classroom PROVIDED YOU USE THE MATERIALS BEHIND A SECURED OR PASSWORD PROTECTED SITE and materials are NOT posted directly to the Internet for others to view.
Note: The website links are not part of your purchase. They are provided as a courtesy to help keep students safer on the web.
Report this resource to TPT