Math Centers Bundle THIRD GRADE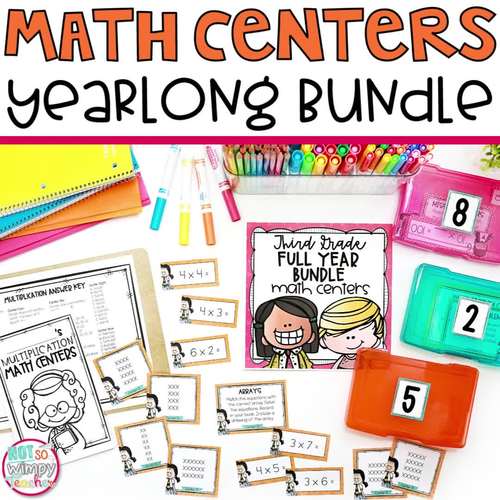 ;
What educators are saying
I love how comprehensive this math bundle is. You've really thought of everything and my students are loving these math units. They are very teacher friendly and kid friendly as well. Thank you!
My students are so engaged. It took a little extra prep to print, cut and laminate the cards, but I know I will use them for years to come.
Products in this Bundle (10)
showing 1-5 of 10 products
Bonus
Math Center Teacher Tips and Tricks
Also included in
This bundle includes EVERYTHING you need to teach math workshop in third grade including lesson plans, interactive mini-lessons, student printables, small group activities, assessments, and project-based learning activities, a complete fact fluency program with mixed-fact practice, and 90 done-for-y

Price $225.00

Original Price $304.50

Save $79.50
Description
This math centers bundle for 3rd grade is honestly a lifesaver. It has everything you need to cover all of the math skills your students need to practice for an entire year. Your students will have so many opportunities to practice their math skills!
Maybe you want to prep an entire year's worth of Math Centers before the first day of school. Or maybe you're running out of steam mid-year and need some fresh ideas. The 90 centers in this bundle can help you with both!
Implementing these centers is easy because I've designed them to all follow the same format. That means you'll only have to teach the expectations and procedures one time. After that, your students will be able to complete centers for the rest of the year without many new directions. You'll save so much class time! 
*********
I also have this resource in a digital version! Click HERE to check it out.
The 90 centers are organized into 9 sets by topic. Each set includes sorts, task cards, math writing, matching, and a recording book that students use for all 10 centers in each set. Yes, they're that complete!
How It Works
You can use the centers in the way that suits your classroom best. But to guide you, I've included a 40-page handbook that tells you the four center rotations I've used. 
**Would you like to learn how I use these math centers? Click HERE to view a free video on how to implement math centers.**
What's Inside
★ All 90 of the Not So Wimpy 3rd Grade Math Centers valued separately at $50 total—meaning you get two center sets FREE!
★ The 40-page "Math Center Teacher Tips and Tricks" document with math center tips, schedules, and labels!
★ A FREE mini-set of 3 Geometry Centers!
************
This resource is part of a money-saving MEGA bundle. Click HERE to see the entire bundle.
************
Centers Included
Math Journaling
Addition & Subtraction Word Problem Task Cards
Adding Doubles
Clocks
Coins
Fact Families
Hundreds Chart Patterns
Missing Addends
Number Patterns
Write Your Own Word Problem
Math Journaling
Addition & Subtraction Word Problem Task Cards
Regrouping
Vocabulary
Roll a Problem (3 digit adding and subtracting)
Spin a Problem (2 and 3 digit adding and subtracting)
Estimation: Rounding to Add
Missing Numbers in Math Facts
Addition or Subtraction?
Write Your Own Word Problem
Math Journaling
Mystery Number Task Cards
Rounding to the Nearest 10 Sort
Rounding to the Nearest 100 Sort
Rounding Patterns on a 100s Chart
Mentally Adding and Subtracting 10 and 100.
Expanded Form Task Cards
Value of a Digit
Making the Least and Greatest Number with Specified Digits
Write Your Own Word Problem
Math Journaling
Multiplication Word Problem Task Cards
Commutative Property
Meaning of Multiplication Using Words
Arrays
Skip Counting
Multiplication Patterns
Missing Factors
Multiplying Multiples of 10
Write Your Own Word Problem
Math Journaling
Elapsed Time Word Problem Task Cards
Drawing Clocks
Telling Time to the Minute
Elapsed Time Between 2 Clocks
Vocabulary
Measuring a Minute (will need a timer)
Writing Times that Activities Take Place (analog and digital)
Adding or Subtracting Minutes from a Time
Write Your Own Word Problem
Math Journaling
Word problem Task Cards
Arrays
Fact Families
Related Multiplication Facts
Division Facts
Missing Numbers in Division Equations
Repeated Subtraction
Division Strategies
Write Your Own Word Problem
Math Journaling
Word problem Task Cards
Fraction of a Shape
Fractions Number Lines
Comparing Fractions
Equivalent Fractions
Fraction Vocabulary
Roll and Draw Fractions
Fraction Picture
Write Your Own Word Problem
Math Journaling
Word problem Task Cards
Which Unit? (What unit is used to measure the capacity and weight of a given object?)
Measure a Shape (area and perimeter)
Draw a Shape (with a given area)
Measure a Line (to the nearest 1/4 inch)
Line Plot
Read a Graph
Making a Bar Graph
Write Your Own Word Problem
Math Journaling (Multiplication and Division Relationship)
2-Step Word Problem Task Cards
Addition & Subtraction
Rounding to the Nearest 10 and 100
Measuring Area and Perimeter of Regular and Irregular Shapes
Reading Bar Graphs and Pictographs
Naming Quadrilaterals
Missing Factors (Multiplication and Division Facts)
Reading Clocks and Elapsed Time
Comparing Fractions and Equivalent Fractions
Geometry
Quadrilaterals
Vocabulary
Mystery Shapes
You might also like:
I also have centers for other grade levels!
Report this resource to TPT
Standards
to see state-specific standards (only available in the US).
Tell and write time to the nearest minute and measure time intervals in minutes. Solve word problems involving addition and subtraction of time intervals in minutes, e.g., by representing the problem on a number line diagram.
Measure and estimate liquid volumes and masses of objects using standard units of grams (g), kilograms (kg), and liters (l). Add, subtract, multiply, or divide to solve one-step word problems involving masses or volumes that are given in the same units, e.g., by using drawings (such as a beaker with a measurement scale) to represent the problem.
Draw a scaled picture graph and a scaled bar graph to represent a data set with several categories. Solve one- and two-step "how many more" and "how many less" problems using information presented in scaled bar graphs. For example, draw a bar graph in which each square in the bar graph might represent 5 pets.
Generate measurement data by measuring lengths using rulers marked with halves and fourths of an inch. Show the data by making a line plot, where the horizontal scale is marked off in appropriate units-whole numbers, halves, or quarters.
Recognize area as an attribute of plane figures and understand concepts of area measurement.