Math Interactive Notebook Bundle for 3rd Grade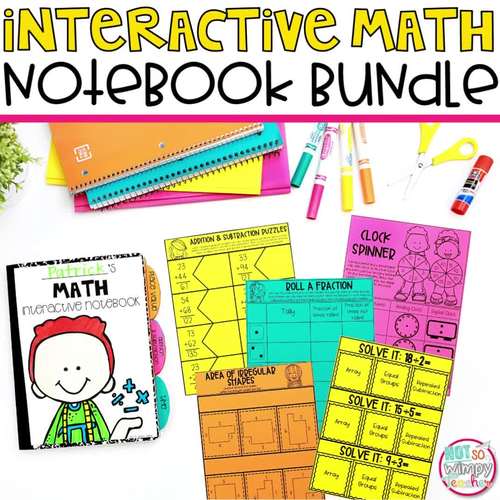 ;
What educators are saying
I really appreciate the ease I can use these with my students. I appreciate the simple cuts and efficient design. Thank you!
This resource is amazing for reinforcing a lesson during small group, after a lesson, or even the next day! I love using it!
Products in this Bundle (11)
showing 1-5 of 11 products
Bonus
Math Interactive Notebook Cover and Dividers
Description
These interactive notebooks are terrific!  They are thorough, allow for differentiation, and keep the kids learning and engaged." - Helane L.
Interactive Notebooks are a FUN way to teach and practice math! Why? They differ from traditional note taking, where students focus on copying notes from the teacher more than understanding the material they're writing down. Interactive Notebooks instead allow students to interact with (hey-o!) and think about the material. They've honestly transformed the way I teach because I can easily assess my students' mastery of a topic.
Because Interactive Notebooks involve inserting and moving around flaps, foldables, wheels, charts, etc., my students call them "scrapbooks"! They love all of the different visuals.
IMPORTANT NOTE: I designed these for busy teachers like you. So the cuts are super-simple, and there's no unnecessary coloring. Your kids can quickly cut, glue, and go!
This huge bundle includes 10 of my Math Interactive Notebook files that include oodles of activities with directions, and pictures of completed pages! I also added my "Tools for Interactive Notebooks" resource which tells you EXACTLY how to prep, use, and assess them in your classroom. See the list below to learn which math skills are included for your students to learn.
Purchased individually, all 10 notebooks would cost you $48! So this bundle is an amazing deal.
How it Works
You can use these Interactive Notebooks in a variety of ways, but here are some suggestions to inspire you.
Rotations: Divide the class into six groups. Lay the centers around the room or on desks and give your students 20-30 minutes at each center. You can do one rotation per day for six days. Or, if you have more time, do additional rotations. 
Whole group / Work together: Display a math activity using a projector, SMART Board, or document camera. Have your students answer the questions individually and then discuss with a partner.
Math centers: Have your students complete them at their own pace during any of your math centers. They can work on them while you meet with guided math groups.
Guided math groups: Help your students complete their notebooks as part of guided math groups.
Bell work: Start the day off with any of the activities your students can do independently.
**Would you like some tips for using these interactive notebooks in your classroom? Click HERE to view a free video with tips for implementing these interactive notebooks.**
************************************
What's Inside
Tools for Interactive Notebooks
What are interactive notebooks?
Finding time for interactive notebooks
Assessing interactive notebooks
Rubrics for interactive notebooks
Table of Contents for Interactive Notebooks
Covers for interactive notebooks
Place Value Interactive Notebook
Place Value Strips
Base Ten Flaps
Expanded Form Flaps
Word Form Flaps
Roll-It Flaps
Roll It Flaps
Value of a Number Flaps
Place Value Puzzles
Making New Numbers Flaps
Less Than or Greater Than Flaps
Make the Greatest Value Flaps
Between Tens Flaps
Between Hundreds Flaps
Round to the Nearest Ten Flaps
Round to the Nearest Hundred Flaps
Roll and Round Flaps
Rounding on a Number Line Flaps
Addition strategies
Defining Properties of Addition
Identifying Properties of Addition
Even or Odd sort
Adding two digit numbers
Adding three digit numbers
Subtracting two digit numbers
Subtracting three digit numbers
Word problems
Tape diagrams
Addition and subtraction puzzles
Multiplication Interactive Notebook
Multiplication Vocabulary Flaps
Multiplication Vocabulary Puzzles
Multiplication Strategies
Skip Counting Flaps
Arrays Flaps
Equal Groups Flaps
Repeated Addition Flaps
Number Bond Flaps
Roll-It Flaps
Multiply on a Number Line Flaps
Tape Diagram Flaps
Multiplication Table
Properties of Multiplication Flaps
Commutative Property Flaps
Distributive Property
Fact Families
Multiplication Word Problem Flaps
Word Problems Flaps
Multiplication Strategies
Groups of…Flaps
Multiplying by Multiples of Ten Flaps
Fact Wheels
Division Vocabulary Flaps
Division Vocabulary Puzzles
Array Flaps
Equal Group Flaps
Repeated Subtraction Flaps
Solve-It Flaps
Dividing on a Number Line Flaps
Number Bond Flaps
Words to Describe Division
Writing Division Equations Flaps
Properties of Division Flaps
Fact Families
Division World Problem Flaps
Write a Division Word Problem Flaps
Factors Pockets
Fraction Vocabulary Puzzles
Fraction Vocabulary Flaps
Numerator & Denominator Venn Diagram Flaps
Fractions of a Set Flaps
Fractions of a Circle Flaps
Fractions of a Shape Flaps
Roll-It Flaps
Fraction Number Lines Flaps
Fraction Tiles
Roll a Fraction
Comparing Fractions Strategies
Ordering Fractions Flaps
Less Than or Greater Than Flaps
Comparing Numbers Word Problem Flaps
Equivalent Fraction Flaps
Rolling Equivalent Fractions
Fraction of a Whole Number Flaps
Making Mixed Numbers Flaps
Making Improper Fractions Flaps
Reference Clock
Time Vocabulary Flaps
Analog Clocks Flaps
Drawing Clocks Puzzles
Time in Words Flaps
Time on a Number Line Flaps
Clock Spinner
A.M. or P.M Sort
Elapsed Time Strategies
Elapsed Time Clocks
Elapsed Time Number Line Flaps
Elapsed Time T-Charts
Graphs & Data Vocabulary Flaps
Graphs & Data Vocabulary Puzzles
Types of Graphs Pockets
Frequency Chart Flaps
Tally Chart Flaps
Vertical Bar Graphs Flaps
Horizontal Bar Graph Flaps
Line Plot Flaps
Pictograph Flaps
Line Graph Flaps
Roll-It Flaps
Line Plot Word Problems Flaps
Area and Perimeter Interactive Notebook
Area & Perimeter Vocabulary Flaps
Area & Perimeter Venn Diagram Flaps
Counting to Solve For Area Flaps
Counting to Solve For Perimeter Flaps
Multiplying to Solve For Area Flaps
Adding to Solve For Perimeter Flaps
Area of Irregular Shapes Flaps
Perimeter of Irregular Shapes Flaps
Solve for the Missing Side Flaps
Drawing Shapes for Area Flaps'
Roll-It Flaps
Area Word Problems Flaps
Perimeter Word Problems Flaps
Perimeter & Area Word Problems Flaps
Area or Perimeter Flaps
Draw It Flaps
All About Different Shapes Pockets
Name the Quadrilateral Flaps
Name the Shapes Flaps
Compare & Contrast Flaps
All About 3D Shapes Pockets
Geometry Vocabulary Flaps
Name the 3D Shapes Flap
Describe 3D Shapes
Types of Lines Flaps
Parallel or Perpendicular Sort
Types of Angles Flaps
Classifying Angles Flaps
Measuring Angles Flaps
Draw the Angle Flaps
Types of Triangle Flaps
Measurement Interactive Notebook
Measurement Vocabulary Flaps
Units of Measurement Puzzles
Measurement Tool Sort Flaps
Measuring Length Flaps
Draw A Line Flaps
Measuring Weight Flaps
Measuring Liquid Flaps
More Than or Less Than Flaps
Word Problem Flaps
Report this resource to TPT