Math Intervention First Grade Kindergarten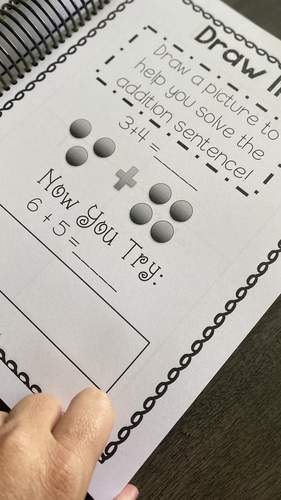 ;
What educators are saying
This was a helpful time saver specially when differentiation is a big part of planning. Thank you so much!
This is a great thing to use during our intervention time. It has been really helpful for my students.
Description
Math Intervention for Kindergarten and First Grade- Do you have struggling first grade or kindergarten math students in your classroom? This math intervention binder is for you!
Kindergarten and First Grade students often struggle with number sense and having a strong foundation in math. This no-prep, time saving Math Intervention Binder will help teachers give students data driven intervention with REAL results. Your students will enjoy math intervention time!
Schools all over have used this math intervention resource with teachers, parents and teacher aides.
This Math Intervention Binder contains over 350 pages of no prep and engaging math instructional tools. The intervention binder is designed to be placed in sheet protectors so that it can be reused during small group or one on one instruction.
This file is stacked with pages for differentiation to meet the needs of your students. You can use all of the pages or pick the ones that you need.
The math intervention binder also includes directions for a volunteer or non teacher to help in how to use this resource. I've included data collection forms and tracking systems to help ease the pain of collecting data.
Each section contains teacher directions and math to use to adequately your students and track their growth in math.
Skills included in this math intervention resource:
Number Sense
Shapes
Patterns
Place Value
Addition and Subtraction Strategies
Counting Coins Activities
Greater than and Less Than Strategies
Telling Time
Data Collection
Over the years, I've used this resource in a variety of ways. I've used it where I printed multiple copies of a certain page for small group instruction. I mostly use this for one on one instruction or to give to my paraprofessional that will pull a few students at a time. In this case, each day or week, I'd place a sticky note telling my aide where I would like her to work from. For example, I might flag the place value section and she would complete the section over the period of time. The Math Intervention Binder for Kindergarten and First Grade has been super helpful for teachers and parents in providing data driven instruction.
If you have ANY questions, please e-mail me at ashley@theteacherstreasurechest.org!
Here are a few blog post about this best selling math intervention resource.
Also, follow me and be notified when new products are uploaded. New products are always 50% off for the first 24 hours they are posted. It pays to follow me!
Thank you so much!
Ashley Benoit
Report this resource to TPT