Math Lesson Plans for First Grade Guided Math Workshop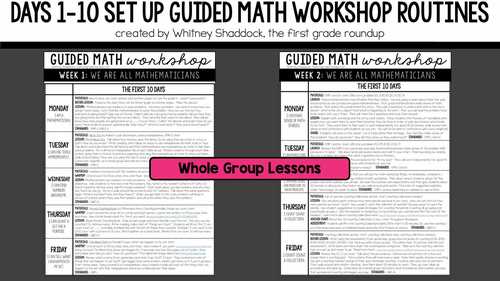 ;
What educators are saying
Thank you for this wonderful resource. This will help with planning fun, engaging and rigorous lessons.
This resource was so helpful to math flexible small groups happen in my math instruction. SO beneficial and so much math knowledge at your finger tips!
Also included in
Do you feel lost planning first grade math each week? Do you feel like you have some good pieces or parts of your 1st grade math curriculum, but you can't seem to fit them all in or make them all work together? Guided math workshop is for you! WHY GUIDED MATH WORKSHOP?Many teachers and districts

Price $159.00

Original Price $256.25

Save $97.25
Description
Tired of writing math lesson plans that are rigorous and engaging? Guided Math Workshop is a structured math routine where first graders are given direct instruction and then practice math skills independently, with partners and in small groups with the teacher.
WHY GUIDED MATH WORKSHOP?
Many teachers and districts are wanting more problem solving in the primary classrooms. But they also understand the gaps in math instruction when math story problems are 100% of the instruction. Guided Math is a balanced curriculum that addresses both of these needs.
WHAT IS GUIDED MATH WORKSHOP?
Guided math workshop is a comprehensive curriculum I've developed for first grade to balance math instruction. It incorporates all of the Cognitively Guided Math principles I've used in 1st grade for years, plus many of the hands on games and skill activities that are also beneficial for primary students and problem solving heavy curriculums lack.
Find more detailed information on the whats and whys plus the weekly schedule and routine in the preview! I have also included a list of materials and manipulatives needed with links in the preview download! Plus, read more about GMW on the blog!
I have also added a comprehensive Guided Math Workshop Bundle that includes all of the resources currently in my store that are used in this curriculum. It is a one stop shop for your math curriculum in first grade!
Want to try this curriculum for FREE first? includes the first 10 days of lesson plans for Guided Math Workshop, plus a few printables to get you started. It will give you an idea of what this curriculum is like before purchasing the entire curriculum.
TEACHER RESOURCES INCLUDED IN THESE FIRST GRADE MATH PLANS
• Year at a glance overview with the big idea for each of the 36 weeks ()
• The first 10 days (2 weeks) lesson plans to launch guided math workshop
• 36 weeks of lesson plans (each week is on one page)
• Number Choice progressions chart for addition and subtraction (an explanation of how to choose the right numbers to build base 10 understanding)
• Explanation of problem types
• Problem Solving Strategy Progression Charts for Addition, Subtraction, Comparing, Multiplication and Division
• Detailed narrative of the routines for Meet With Me time for each level of groups
• TONS of narrative explanations walking you through getting started, assessing and forming small groups, creating and editing the rotation boards, what materials you may also want to use, and much more!
• A list of trade books and manipulatives/resources used in the curriculum with links
PRINTABLE STUDENT MATERIALS INCLUDED IN FIRST GRADE MATH PLANS
Materials that are NOT found separately in my store included with the plans. Some are printables and some are digital resources...
• Numbers Around Me writing page
• Sets writing page
• One More/One Less game sheet (3 versions)
• On and Off game sheet (3 versions)
• Roll it! Build it! Break it! game sheet (2 versions)
• Measuring Mystery (2 - height and length)
• Guess My Shape Rule game sheet
• How Many to 10 Cards
• How Many to 20 Cards
• Find the Ten game sheet (2 versions)
• Counters in a Cup game sheet
• 3D Shape Cards
• Blocks in Socks game sheet
• Ways to Make a number printable & example
• Race to 100 game sheet
• Race to 0 game sheet
• Measure Me activity sheet
• Ways to Say Half Hour anchor chart
• Efficient Strategies anchor chart
• Roll and Record game sheet (tallies, vertical bar, horizontal bar)
• Fact Families Card game sheet
• Add It Up By Tens card game sheet
• 2D Shape pictures activity sheet (6 versions)
• Tangrams activity page
• Fill a Shape 2 Ways activity shape (8 versions)
• Build a Graph materials and recording sheet
Printable and Digital materials that ARE found separately in my store are included in the plans, but are linked in the plans and included in the bundle.
DIGITAL STUDENT MATERIAL INCLUDED IN FIRST GRADE MATH PLANS
Some weekly plans include digital slideshows (pdf files) or interactive powerpoint files. Both can be used on your interactive whiteboard.
• Rotation Board pdf files (2 different layout options)...show on your interactive board or print poster size
• Digital EDITABLE Rotation Board Slide Show: This is a timed slideshow. Just click to start and every 15 minutes, it will play chimes to cue students to move automatically and show the next rotation. Plus, you can edit almost everything on this powerpoint file. (Watch the video preview to see this in action!)
• How We Go Home interactive powerpoint graph
• Numbers Around Me pdf slideshow
• 3D Faces Math Talk pdf slideshow
• Finding Bingo digital book (pdf file)
• Add Fluently EDITABLE powerpoint (timed math facts)
• Subtract Fluently EDITABLE powerpoint (timed math facts)
• Clock Math Talk pdf slideshow
• Composing Tens and Ones pdf slideshow
• Shape Pictures interactive powerpoint
• Cupcake Crisis pdf slideshow
• Decomposing Pattern Blocks interactive powerpoint
• Story Problem Equations (review) pdf slideshow
WHAT PARTS ARE INCLUDED ON THE LESSON PLANS?
• The weekly goal or big idea
• Material lists
• Before lesson prep notes
• Mini-lessons or warm-ups
• Story problem launching scripts
• Story problem share time guiding questions
• Whole group lessons
• Anchor chart ideas and plans
• Standards list (SMPs and Common Core Tags)
• Math Talks listed with guiding questions
• Hands-on activity plans and material lists
• Counting Collections plans and focuses
• M.A.T.H (Meet with me, At my seat, Tech, Hands on) plans for each week
• Some digital and print materials that cannot be found in any other resource in my store
WHAT'S INCLUDED IN THIS RESOURCE?
These plans do not include all of the materials needed. This is because many of the materials and assessments are already available separately in my store. You can find a list and links in the preview download. Any materials listed in the lesson plans that are not available in another resource in my store ARE included with these plans.
to do this curriculum. You can write your own story problems, draw your own math talks based on the ones I give you, and use your own game handouts or materials. But the links to the materials are in the preview and listed below if you prefer to have them ready-made!
>>>>>>>>>>>>>>>>>>>>>>
❤️Read what others are saying about this resource!❤️
"This has been a life saver for me! I have not taught 1st in 8 years and this has ensured that my lessons reflect today's curriculum." ~Kristen
"Thank you so much for this resource! This will be my first year implementing a guided math program with this kind of approach and I really needed the support that you have provided!" ~Angela
"THIS is EVERTHING!!! Everything you need for Guided Math Workshop is right here! It seems every year I'm pulling resources from every direction. Thank you for an incredible and user-friendly resource for my daily math instruction. I love how the Math Standards are listed, lessons are easy to understand and I still can be flexible depending on my student's needs!" ~Phuong
>>>>>>>>>>>>>>>>>>>>>>
RELATED RESOURCES NEEDED FOR GUIDED MATH WORKSHOP:
• Standards for Math Practices Anchor Charts
Copyright Whitney Shaddock, 2023, licensed for one classroom use only. Please use the multiple licensing option for more than one classroom use!
Let's Connect:
Teaching Duration
Lifelong tool
Report this resource to TPT
Standards
to see state-specific standards (only available in the US).
Order three objects by length; compare the lengths of two objects indirectly by using a third object.
Express the length of an object as a whole number of length units, by laying multiple copies of a shorter object (the length unit) end to end; understand that the length measurement of an object is the number of same-size length units that span it with no gaps or overlaps.
Tell and write time in hours and half-hours using analog and digital clocks.
Organize, represent, and interpret data with up to three categories; ask and answer questions about the total number of data points, how many in each category, and how many more or less are in one category than in another.
Count to 120, starting at any number less than 120. In this range, read and write numerals and represent a number of objects with a written numeral.