Math Problem Solving Project - Valentine's Day Party PBL Task - Print & Digital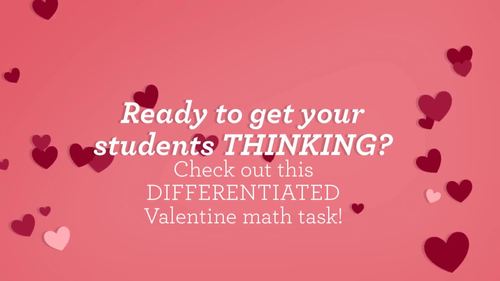 ;
PDF

Google Apps™
Includes Google Apps™
The Teacher-Author indicated this resource includes assets from Google Workspace (e.g. docs, slides, etc.).
Also included in
Are you looking for higher-level math performance tasks and problem solving activities to use with your students? Do you want low prep, low ink AND flexibility—a math problem solving resource that can be used with small enrichment groups or can be tiered so you can use it with your entire class…but

Price $25.00

Original Price $34.65

Save $9.65
Description
Are you looking for a high-level, Valentine math project-based learning/problem solving project to use with your students? Finding quality math tasks that are engaging and low-prep is tough--but I've got you covered!
Do you want flexibility—a math resource that can be used with small enrichment groups or can be tiered so you can use it with your entire class…but at different levels?
Do you want your students to be problem solving, thinking creatively, writing and talking about math, and working collaboratively?
Do you want them working on math in "real world" contexts?
Do you want to have both PRINT and DIGITAL options available all in one resource?
This may be just what you are looking for!
For years, I have wished and hoped for a resource that would provide my students with high quality, open ended tasks to allow them to apply what they learn to real world situations. Guess what? They are hard to find! So I thought and I thought…and finally, the idea for a flexible, high level series of problems came to me.
They can be used
whole class
with enrichment groups
for fast finishers
or even in different ways with different groups of students.
between units to stress integrated problem solving
This version is PERFECT for any time of year and with any group of students because it is all about planning a Valentine's Day celebration complete with treats and more! There are lots of factors to consider--this is not a fill-in-the-blank resource...but a true open-ended math project.
Each "Thinker Task" resource is based on a different real world theme--like planning the timing of a holiday feast, spending a day at an amusement park, or planning a party--and students need to use the "Math by the Numbers" posters (available in full color to laminate for centers and in black and white for easy copying) to work on a multiple step, open ended project.
The activity is tiered so that the same activity is available at different levels. Not only that, but you get additional math practice sheets (also tiered), suggestions for math discussions, extension activities, and more!
Want to save 25% on the bundled set of these? Just CLICK HERE!
This version focuses on addition and subtraction of money, basic multiplication, and multi-step problem solving. It is ideal for grades 3 - 5 and could be used in other grade levels at your discretion. I hope you enjoy it--and the flexibility it offers you.
------------------------------------------------------------------------------------------------------
Looking for more Thinker Task resources? Here is the complete list!
Back to School Shopping Problem
A Valentine Celebration Problem
------------------------------------------------------------------------------------------------------
Here is a bundle of Valentine activities and word problems!
How about a Valentine book review and bulletin board project?
Here are some larger number multiplication task cards for Valentine's Day!
All rights reserved by ©The Teacher Studio. Purchase of this resource entitles the purchaser the right to reproduce the pages in limited quantities for single classroom use only. Duplication for an entire school, an entire school system, or commercial purposes is strictly forbidden without written permission from the author at fourthgradestudio@gmail.com. Additional licenses are available at a reduced price.
Report this resource to TPT
Standards
to see state-specific standards (only available in the US).
Fluently add and subtract within 1000 using strategies and algorithms based on place value, properties of operations, and/or the relationship between addition and subtraction.
Fluently add and subtract multi-digit whole numbers using the standard algorithm.
Solve two-step word problems using the four operations. Represent these problems using equations with a letter standing for the unknown quantity. Assess the reasonableness of answers using mental computation and estimation strategies including rounding.
Interpret a multiplication equation as a comparison, e.g., interpret 35 = 5 × 7 as a statement that 35 is 5 times as many as 7 and 7 times as many as 5. Represent verbal statements of multiplicative comparisons as multiplication equations.
Make sense of problems and persevere in solving them. Mathematically proficient students start by explaining to themselves the meaning of a problem and looking for entry points to its solution. They analyze givens, constraints, relationships, and goals. They make conjectures about the form and meaning of the solution and plan a solution pathway rather than simply jumping into a solution attempt. They consider analogous problems, and try special cases and simpler forms of the original problem in order to gain insight into its solution. They monitor and evaluate their progress and change course if necessary. Older students might, depending on the context of the problem, transform algebraic expressions or change the viewing window on their graphing calculator to get the information they need. Mathematically proficient students can explain correspondences between equations, verbal descriptions, tables, and graphs or draw diagrams of important features and relationships, graph data, and search for regularity or trends. Younger students might rely on using concrete objects or pictures to help conceptualize and solve a problem. Mathematically proficient students check their answers to problems using a different method, and they continually ask themselves, "Does this make sense?" They can understand the approaches of others to solving complex problems and identify correspondences between different approaches.