Math Spiral Review Worksheets - First Grade Bundle with Spring Math Activities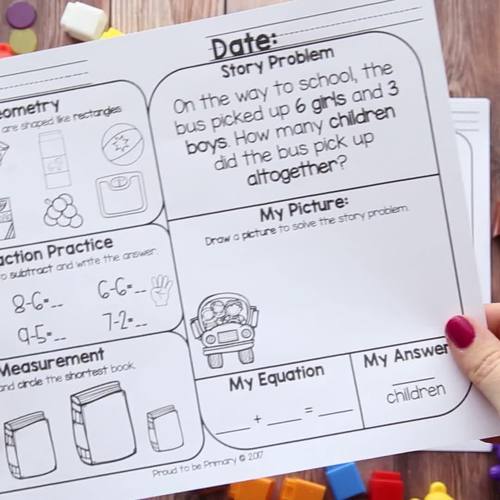 ;
Zip

Google Apps™
300 + DIGITAL Google Slides
Includes Google Apps™
This bundle contains one or more resources with Google apps (e.g. docs, slides, etc.).
What educators are saying
My students love these math mats. They are perfect for spiral review, assessments, morning work or homework.
We use these everyday! My students love them and it has helped reinforce core standards that we are learning at school.
Products in this Bundle (12)
showing 1-5 of 12 products
Description
First Grade Math Mats Bundle - Daily Math Practice and Review for the school year. This printable and digital resource (Google Slides) includes 20 different Math Mats. Each mat has 4 different math skills and standards on it for students to practice and review.
This resource is comprehensive and provides a lot of spiraling math practice each month. Great for math workshop, math journals, and morning work. Build math fact fluency with these math activities and story problems.
Questions and activities on addition, subtraction, word problems, 2D and 3D geometry and shapes, measurement, time, numbers to 100, place value, graphing, money, patterns, and more!
Buy the bundle and SAVE (4 packs for FREE)! This BUNDLE is a collection of 10 monthly Math Mat resources. Each pack is NOW included and the bundle is complete!
Look at the previews and products included! Watch the video preview to see Math Mats in action!
3 RESOURCES IN 1:
PDF or PPT - Just open the PDF or PPT file and print! These files ARE NOT interactive or digital.
GOOGLE SLIDES - You will receive every mat digitally enhanced in Google Slides with interactive components (preformatted text boxes, moveable pieces). Instructions are included on how to assign each Math Mat to your Google Classroom. You can download a PPT version from there if you need an interactive file.
SEESAW - Upload to Seesaw and add your own instructions with the included images!
Check out a FREE Math Mats sampler HERE!
View the individual previews and 10 products included above.
Aug/September Math Mats (printable & digital)
October Math Mats (printable & digital)
November Math Mats (printable & digital)
December Math Mats (printable & digital)
January Math Mats (printable & digital)
February Math Mats (printable & digital)
March Math Mats (printable right now, but digital coming soon!)
April Math Mats (printable right now, but digital coming soon!)
May Math Mats (printable right now, but digital coming soon!)
June Math Mats (printable right now, but digital coming soon!)
Check out a detailed blog post about Math Mats HERE!
Look at the PREVIEW for a look at the 4 ways to use Math Mats and a breakdown of what a Math Mat looks like and how it can be used.
The activities align to the Common Core standards for first grade.
This is perfect for first grade, but could also be used for a challenge in Kindergarten and for extra practice/as review for second grade.
Additional pages are provided for Canadian users. Additional pages include Canadian spelling and Canadian money.
4 ways to use Math Mats in your classroom!
1. Print on cardstock & laminate. Use with white board markers during your math centers!
2. Photocopy with the booklet cover and staple into a booklet. Have your students complete 1 mat a day for morning work or for extra practice during math workshop!
3. Shrink the pages and have your students use the mats in their Interactive Math Notebooks!
4. Photocopy and place into a math folder to practice each day.
The skills covered in Math Mats include:
*Addition word problems
*Subtraction word problems
*Addition math fact practice with fingers, number lines, 10 frames, and pictures, as well as figuring out the missing addends, adding 3 numbers, and whether equations are true or false.
*Subtraction math fact practice with fingers, number lines, 10 frames, and pictures, as well as finding out the missing numbers, subtracting 3 numbers, and whether equations are true or false.
*2D Geometry - draw, identify, and describe shapes
*3D Geometry - identify, describe, and match shapes with real life objects
*Measurement - counting number of units, describing which object is tallest/shortest/longest, and drawing objects that are taller/shorter/longer
*Time to the hour and half hour - add hands on clocks & reading clocks
*Months of the year
*Numbers to 100 - fill in missing numbers and completing number charts
*Write number words to 20
*Place value to 20 - counting and drawing ones and tens blocks
*Greater and less than
*1/10 more or less
*Number order to 100
*Ordinal numbers to 10
*Tally marks
*Odd/Even
*Skip Counting by 2's, 5's, & 10's - counting groups and using the skip counting patterns
*Graphing - adding data onto graphs and answering questions
*Sorting - counting groups and making a sorting rule
*Patterning - create and complete different types of patterns
*Money - identify and count coins (provided in Canadian on additional pages)
Upon purchase, you will be able to instantly download a ZIP file for each month that includes a printable PDF, PPT files, details for using with Google, and images/instructions on how to use in Seesaw.
You might also be interested in:
Mindful Math Kindergarten Curriculum
Mindful Math First Grade Curriculum
Mindful Math Second Grade Curriculum
Math In A Minute - Addition Fact Practice
Math In A Minute - Subtraction Fact Practice
Try the SEL program that is needed in ALL classrooms!
mind+heart Social Emotional Learning curriculum for K-2
mind+heart Social Emotional Learning curriculum for 3-5
Popular Bundles by Proud to be Primary:
Non-Fiction & Life Science Year-Long Bundle
Stay connected with Proud to be Primary
♥Click HERE to follow our store and receive notifications of new product releases, sales, and freebies.
♥Join our email list and get weekly teacher tip emails and access to our FREE resource library.
♥Visit our website at Proud to be Primary for tons of engaging ideas for teaching kids in the classroom!
♥Join our Facebook group and connect with thousands PROUD primary teachers like yourself.
Questions, suggestions, and feedback are always welcome.
Just use the "Product Q&A" tab and I will get back to you as fast as I can!
Please ask all questions before purchasing or email me at elyse@proudtobeprimary.com.
Terms of Use: This product is licensed for personal classroom use ONLY unless multiple licenses are purchased. Your purchase grants you a license to use in a secure, password-protected online platform (such as Google Classroom) with your students only. You may not transfer or share with another teacher or use for commercial purposes (Outschool, etc.).
©2013 to Present - Proud to be Primary - Elyse Rycroft
Total Pages
300 + DIGITAL Google Slides
Report this resource to TPT
Standards
to see state-specific standards (only available in the US).
Order three objects by length; compare the lengths of two objects indirectly by using a third object.
Express the length of an object as a whole number of length units, by laying multiple copies of a shorter object (the length unit) end to end; understand that the length measurement of an object is the number of same-size length units that span it with no gaps or overlaps.
Tell and write time in hours and half-hours using analog and digital clocks.
Organize, represent, and interpret data with up to three categories; ask and answer questions about the total number of data points, how many in each category, and how many more or less are in one category than in another.
Count to 120, starting at any number less than 120. In this range, read and write numerals and represent a number of objects with a written numeral.