Math Worksheets and Centers | Math Practice | Place Value | Fractions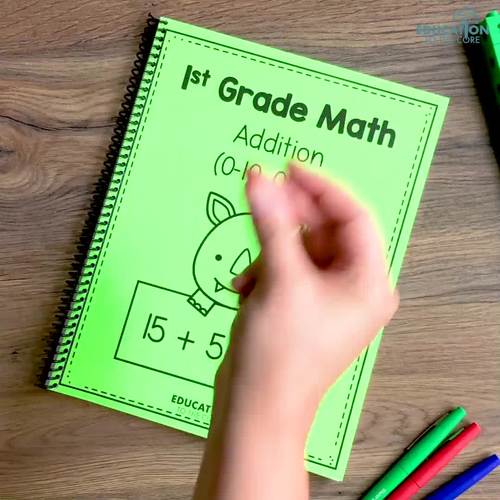 ;
What educators are saying
I am using this to supplement my math curriculum for students who are struggling after being gone during covid. There are a variety of resources so lots of options to choose from for practice.
My students love math packets for independent work! I love how these are organized and ready to go! Thank you!
Description
Introducing: Math Activities Packets from Education to the Core
This resource includes math packets for the entire first grade year. Inside this bundle, you will find 490 activities and 118 word wall cards for first grade math!
Included in this bundle:
Relationship Between Addition and Subtraction
Adding and Subtracting Within 100
This bundle is no prep, just print and go!
These are designed to give you the ability to not only differentiate between the needs of each individual student but also give you different ways to teach the curriculum.
We have included corresponding centers to the worksheets and have broken them down into specific subject matter to make your job as easy as 1, 2, 3!
Take this Math Activities Packets Bundle to your classroom TODAY and make struggling with math lessons a problem of yesterday!
Why Math Activities Packet?
Comprehensive: Covers all CCSS math standards for first grade.
Multiple Activities: Packets include multiple activities for students around that content including individual work pages, math mats, partner or small group games, and card sets.
Multiple Use: Included cards come with multiple activity suggestions/uses. Contents can be used for small group instruction, whole group practice, individual work, at-home work, and more!
Engaging and Fun for Students: Games, activities, and individual work pages are engaging and fun ways for students to learn math skills and content.
Printable Math Tools: Includes printable rulers, clocks, student number lines, and more!
Math Word Wall: Illustrated math word wall cards for new vocabulary are included in the bundle.
TERMS OF USE:
Thank you for your purchase! By purchasing this resource, you are agreeing that the contents are the property of Emily Garcia/Education to the Core, and licensed to you only for classroom/personal use as a single user. I retain the copyright, and reserve all rights to this product.
You May:
Use items (free and purchased) for your own classroom students, or your own personal use.
Reference this product in blog posts, at seminars, professional development workshops, or other such venues PROVIDED there is both credit given to myself as the author and a link back to my TPT store is included in your post/presentation.
Distribute and make copies of free items only to other teachers PROVIDED there is credit given to Emily Liscom Garcia and a link back to my TPT store.
You May Not:
Claim this work as your own, alter the files in any way, or remove/attempt to remove the copyright/watermarks.
Sell the files or combine them into another unit for sale/free.
Post this document for sale/free elsewhere on the internet. (This includes Google Doc links on blogs.)
Make copies of purchased items to share with others is strictly forbidden and is a violation of the Terms of Use, along with copyright law.
Obtain this product through any of the channels listed above. Thank you for abiding by universally accepted codes of professional ethics while using this product.
Report this resource to TPT