Math Workshop Training and Guided Math Groups Lesson Plan Template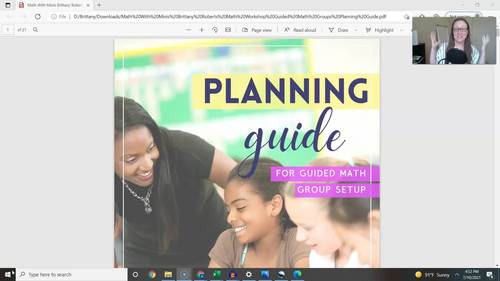 ;
Description
Learn how to help your students achieve true math fact fluency with Math Workshop. You might have learned how to run math centers, or station rotations - but without a clear vision, or clear routines and procedures, your math centers and stations will never be as effective or engaging as they COULD be.
This affordable, actionable professional development workshop will show you:
What true math fact fluency is
What Math Workshop is, and why it's so critical for effective math instruction
The power of mini lessons, and how you can get started with them
Practical ways to get started with Math Workshop right away
How to teach multiplication considering number sense, manipulatives, and technology

This session was from my presentation at the 2021 Effectively Engaged Math Conference, put on by Melissa from That One Cheerful Classroom.
If you'd like to get access to all of the sessions from that conference, you can buy your All-Access Pass here (this is an affiliate link, which means I would earn a commission from your purchase at no extra cost to you).
This resource set comes complete with:
Video training session for teachers (approximately 26 minutes long)
Session slides from the video training (downloadable PDF)
Guided Math Groups Lesson Planning Template (fillable, printable PDF)
Ways to Use This Resource Remotely
If you're an admin wanting to use this resource for professional development, you can assign this PD by sending teachers the link and resources (please purchase one license per teachers gaining access)
If you're a teacher looking to hone your skills on Math Workshop, you can simply work through the session and materials at your own pace from home
BONUS TIPS
Bookmark the private video training link for quick future access!
Please remember to:
Watch the video preview to see inside of the Guided Math Groups Lesson Planning Templates
Follow my store to be updated about new products and sales.
Leave feedback to earn credits toward future purchase by heading to
MY PURCHASES in your Teachers Pay Teachers account.
Thank you SO MUCH for taking the time to read all of this!

I hope you love this resource. :)
Report this resource to TPT