Math Workstation Number Tasks: Numbers to 120, Print and Digital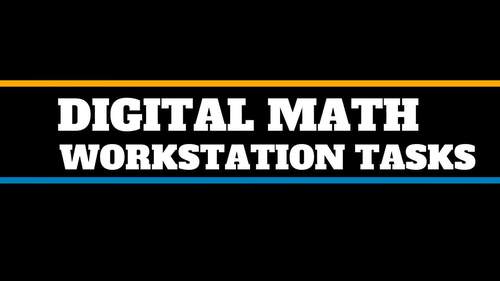 ;
PDF

Google Apps™
Includes Google Apps™
The Teacher-Author indicated this resource includes assets from Google Workspace (e.g. docs, slides, etc.).
Description
You want low-prep, standards-based math workstation tasks that build student number sense through research-based activities, right? Well, you've come to the right place! This set of activities is aligned to the K-2 CCSS and TEKS. Print, laminate, gather a few materials, and your workstations are good to go! These activities can last you ALL YEAR LONG by gradually increasing the magnitude of the numbers used with each activity.
Set includes:
Workstation activity cards for 31 different workstation activities aligned to the K-2 CCSS and TEKS
Digital versions of EIGHTEEN of the tasks for use with Google Slides; editable so you can use the numbers appropriate for your students
Teacher notes explaining how to maximize learning and differentiate activities (most activities can be used for all three grade levels by varying the magnitude of the cards used with the activity)
Chart showing CCSS and TEKS alignment for each activity
Number cards to 120
Ten-frame cards to 20
One more/one less and ten more/ten less cards
Printable 120 chart
Printable student ten-frame kit
Printable number lines to 20 (four to a page)
Printable ten-frames (three to a page)
Aligned to both the CCSS and the TEKS
Download the preview to see complete CCSS/TEKS alignment
Be sure to rate this product and provide feedback to earn TpT credits good toward the purchase of future products!
You Might Also Like…
MEGA Subitizing and Number Combinations Bundle: Print and Digital
Direct Modeling for 2-Digit Addition: Print and Digital Versions
To 100 and Beyond! Hundred Charts to 1000: Print and Digital
Themed number card sets (sold separately):
Connect with Math Coach's Corner
Be sure to follow my TpT store by clicking on the red 'Follow Me' next to my Seller picture to receive notifications of new products and upcoming sales. Visit my blog for K-5 math tips and freebies you can use tomorrow in your classroom. You can also find me on Facebook and Twitter.
Terms of Use
By purchasing and/or downloading this electronic file, you agree to the terms of use stated below.
For personal AND single-classroom use only. No part of this file may be posted in a public space, copied, or sold without the direct permission of the author. This resource is also not shareable with other teachers or staff. Violations are subject to penalties. If you would like to share this resource with friends, go back to purchase additional licenses.
Teaching Duration
Lifelong tool
Report this resource to TPT
Standards
to see state-specific standards (only available in the US).
Compare two numbers between 1 and 10 presented as written numerals.
Decompose numbers less than or equal to 10 into pairs in more than one way, e.g., by using objects or drawings, and record each decomposition by a drawing or equation (e.g., 5 = 2 + 3 and 5 = 4 + 1).
For any number from 1 to 9, find the number that makes 10 when added to the given number, e.g., by using objects or drawings, and record the answer with a drawing or equation.
Add and subtract within 20, demonstrating fluency for addition and subtraction within 10. Use strategies such as counting on; making ten (e.g., 8 + 6 = 8 + 2 + 4 = 10 + 4 = 14); decomposing a number leading to a ten (e.g., 13 - 4 = 13 - 3 - 1 = 10 - 1 = 9); using the relationship between addition and subtraction (e.g., knowing that 8 + 4 = 12, one knows 12 - 8 = 4); and creating equivalent but easier or known sums (e.g., adding 6 + 7 by creating the known equivalent 6 + 6 + 1 = 12 + 1 = 13).
Determine whether a group of objects (up to 20) has an odd or even number of members, e.g., by pairing objects or counting them by 2s; write an equation to express an even number as a sum of two equal addends.