Mathtionary Review Game of Drawing and Modeling Math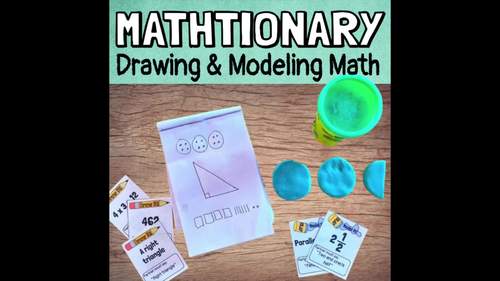 ;
Description
Similar to Pictionary, this game has students drawing and modeling math equations, numbers, and figures to get their partner to guess the answer in less than a minute. Some cards require students to draw a pictorial representation on paper and others require concrete modeling with clay or dough. There is plenty of fun and excitement to be had playing Mathtionary, Students won't even realize they are developing number sense and concrete understandings of math through their drawn and modeled representations! This download includes:
Teacher directions
Student directions
60 cards (30 "Draw It" and 30 "Model It")
You will also need: A one minute timer, paper and pencil, and some kind of modeling clay (play dough or salt dough work well).
Please follow my store here for more great resources!
You can also find me on Facebook, Instagram, and lafountaineofknowledge.com where you'll discover ideas, inspiration, and plenty of freebies! Or join my email list to get my monthly newsletter with exclusive FREE resources you can't get anywhere else!
Want free money to spend on Teachers Pay Teachers? Rate this product to earn some TpT credit! Leaving feedback helps us both out and takes less than a minute! Your support makes it possible for me to continue making and sharing great resources! Thank you!
Credits: All graphics and photographs used in this resource are original works created by Shea LaFountaine of LaFountaine of Knowledge. Fonts used include: Londrina Solid and Londrina Sketch by Marcelo Magalhães and Pangolin by Kevin Burke. All fonts used with permission under open source licenses. 
Report this resource to TPT