Matter and Change Google Hidden Pictures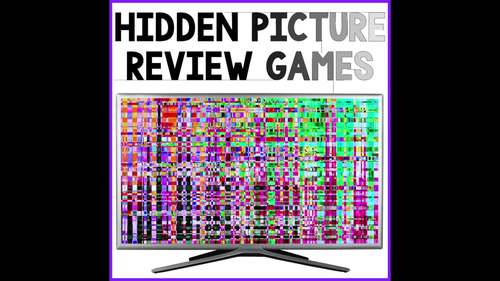 ;
Includes Google Apps™
The Teacher-Author indicated this resource includes assets from Google Workspace (e.g. docs, slides, etc.).
Description
Review the concepts of Matter and Change using these fun Hidden Picture Reveal games. This resource contains two digital Google Sheets games. Each game includes 25 questions on the properties of matter, elements and compounds, mixtures physical and chemical changes, density, and more! The self-grading nature of the activity is perfect for review and reinforcement or even a different sort of homework assignment. This activity is designed to be used in Google Sheets and shared to your students via Google Classroom or to students own Drives. This resource is a paperless, digital review and reinforcement activity that must be completed on a laptop or iPad. Printable worksheets are included to accompany the digital activity.
Please note the following about this activity:
Due to the nature of this activity, you will not be able to edit the questions or answers used in the activity.
========================================================================================
TRY THIS FREE GAME FIRST!
To make sure this type of activity is a good fit for you and your students, download and try my free digital Metric Prefixes Google Sheets Hidden Picture Reveal Game.
========================================================================================
How does the activity work?
Students are given a list of 25 questions in Google Sheets along with a hidden mystery picture. The student must type in the correct answer for each definition or problem. If the student types in the correct answer, the space in the Google Sheet will turn green and a piece of the hidden picture will be automatically revealed. If the student types in the wrong answer, the space will turn red, and the picture piece remains hidden. The answers must be spelled correctly, which is an added benefit of the activity.
What is included in your download folder?
Links to TWO Hidden Picture Review Games in Google Sheets
Printable Student Worksheets (No Word Bank)
Printable Student Worksheets (With Word Bank)
Teacher Guide and Answer Key
Teacher Guide to Google Apps
The number of new vocabulary words and science skills presented to students in our science classes can be overwhelming. Many students need and benefit from additional practice using the terms, definitions, and problems in a chapter or unit. This activity provides a fun way to study and review the concepts of matter and change. Best of all, students get immediate feedback when they type in an answer. The hidden picture will not be revealed when incorrect answers are entered.
Like this activity and want more? Click the links below to view my other Hidden Picture Reveal Games:
For updates about sales and new products, please follow my store:
Total Pages
Google Sheets Activity plus 7 pages
Teaching Duration
40 minutes
Report this resource to TPT