May Math Centers and Activities for 2nd Grade | Print & Digital | Spring Math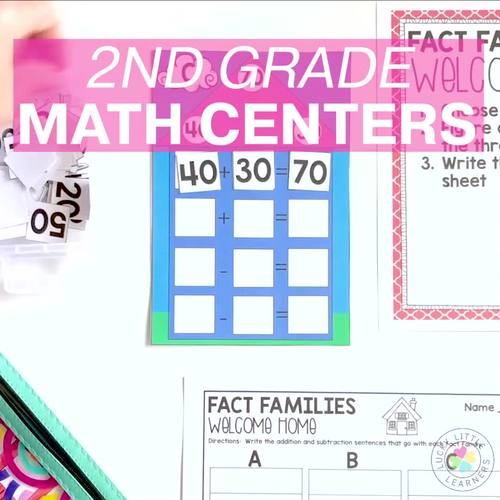 ;
What educators are saying
I love Lucky Little Learners resources!!! I love to use these in small group math centers. Thank you!!
I've been using all of the monthly math centers from Lucky Little Learners for math centers and morning work/tubs. They are a fabulous resource. I highly recommend!
Description
May Math Centers and Activities is a great math resource for the month of May and the end of the school year! Keep your students learning and diving deep with their math skills through the use of engaging, rigorous, and hands on activities that your students will be sure to love.
Wait! This resource is part of a bundle! Click here to save money with the year-long 2nd Grade Math Centers and Activities bundle!
This resource includes:
10 printable math centers
full color and black & white
10 digital centers (Google Slides, Seesaw, and PowerPoint versions)
aligned to 2nd grade standards
direction sheets or independence
recording sheets for accountability
answer keys
THE SKILLS & ACTIVITIES THAT ARE INCLUDED IN THIS RESOURCE ARE:
-Comparing 3-Digit Numbers Greater Than/Less Than
-Counting Money Garden Galore (penny, nickel, dime, quarter, and half dollar)
-Fractions Lego Parts (halves, thirds, fourths, fifths, sixths, sevenths, eighths)
-Time to the Nearest 5 Minutes Clock Flowers (digital & analog)
-Symmetry Pattern Blocks
-3-Digit Addition Frogs & Lillipads (mixed with & without regrouping)
-3-Digit Subtraction Raindrops & Umbrellas (mixed with & without regrouping)
-Odd or Even Goldfish Pond (3-digit numbers)
-Multiplication Match Em' Up (repeated addition, equal groups, & multiplication sentence)
-Geometry Composing Shapes
PLEASE DOWNLOAD THE PREVIEW FILE TO SEE WHAT IS INCLUDED IN THIS RESOURCE
▼▼▼▼▼▼▼▼▼▼▼▼▼▼▼▼▼▼▼▼▼▼▼▼▼▼▼▼▼▼▼▼▼▼▼▼▼▼▼▼▼▼▼▼
If you would like to get updates on NEW and CURRENT resources...
►SIGN UP to receive weekly email freebies!
►FOLLOW me on Teachers Pay Teachers!
►FOLLOW the Lucky Little Learners Blog!
▼▼▼▼▼▼▼▼▼▼▼▼▼▼▼▼▼▼▼▼▼▼▼▼▼▼▼▼▼▼▼▼▼▼▼▼▼▼▼▼▼▼▼▼
Copyright © Lucky Little Learners, LLC.
All rights reserved by author.
Permission to copy for single classroom use only.
Electronic distribution limited to single classroom use only.
Not for public display.
If you have any questions about this resource, please contact me at customerservice@luckylittlelearners.com
Report this resource to TPT