May Team Building, Morning Greeting, Shares, and Daily Writing Prompts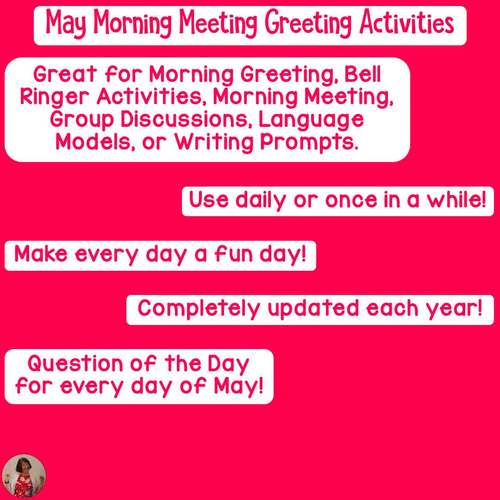 ;
Also included in
This bundle has plenty of seasonal science, social studies, and reading activities to make your life easier and keep your students engaged in valuable activities!Why use May Bundle for Science, Social Studies, and Reading Activities? Brain research tells us that adding some novelty helps students en

Price $22.25

Original Price $44.50

Save $22.25

No more writing morning letters to your students, it's all done for you! These daily questions are great for "bell ringers," morning work, morning greeting, morning meeting, team building, group discussions, language modeling, or writing prompts. Plus, there are 12 Boom Learning Digital monthly tr

Price $30.00

Original Price $57.75

Save $27.75
Description
No more writing morning letters to your students, it's all done for you! These daily questions are great for "bell ringers," morning work, morning greeting, morning meeting, team building, group discussions, language modeling, or writing prompts. Plus, there's a fun Boom Learning Digital May trivia activity included! ($3.25 value!)
Research tells us people (including students) need both routine and novelty. This resource provides both: the routine of answering daily questions, and the novelty of fun holidays with interesting questions to be answered each day. Since teachers spend time daily planning what the children will do when the children enter the classroom in the morning, these May Morning Meeting Greeting Activities will certainly make their lives easier! For more about routine and novelty see this blog post: Predictability and Novelty
Every morning, the teacher can display or print out the daily information and question for the children to answer. These can be answered orally or in writing. There are two pages for every day in the month of January. One page can be projected for the children to see as they arrive in the morning. The second page has the same question and information, with lines for the children to respond in writing. These questions can be used daily or just once in a while. Each day does not depend on any previous questions. Each day has the date, a special holiday connected to that date, some information about that holiday, and a "thinking question" to go with that date. As the year progresses, the expectations for the responses should rise. (Modeling!) The display pages are perfect for use as a background for virtual or in-class learning. The teacher can choose whether to have everyone share their answer, have some students share, have all students share with partners or a small group. or have students pass in a written answer,
After collecting written responses, the teacher can choose a few to read (at another time) that model a writing skill you've been working on! Knowing their work might be chosen to model a specific skill is very motivating for students to use that skill!
There are 31 questions in all, based on fun holidays in the month of May. The questions come in two forms, one is designed for display and one is designed for printing. The printed copies can be used as weekly booklets, class books, or writing prompts. The display questions can be used for a morning greeting or discussion questions during morning meeting. Many teachers use these written questions as "bell ringers," or morning work for the children. When the day officially begins, these can be shared during morning meetings or calendar time. This resource also has a blank picture page and a blank writing page for the children with the same formatting for you to use as you please. It also has examples, information, and suggestions for use.
It also includes a link for sending daily writing prompts home for virtual learning.
are easy for the teacher and fun for the children! These can be played on computers or tablets, give immediate feedback to the children, and detailed data for the teacher.
"With your Teachers Pay Teachers purchase, users new to Boom Learning get a three-month free trial of student progress reporting for up to 150 students. Your trial includes the ability to make up to 5 free DIY decks. You may upgrade or cancel at any time. Boom Cards play on modern browsers (released in the last three years) on interactive whiteboards, computers, and tablets. Boom Cards apps are also available. Not sure if your browser is modern enough? Try a free Boom Cards deck first. When you redeem your purchase, Boom Learning opens an account for you if you do not already have one. If you do not subscribe at the end of your trial, you will be able to continue using Boom Cards with the Fast Play feature. Fast Play does not track individual progress. If you do not subscribe we will delete your student records 3 months after the expiration of the trial to protect student privacy."
:
Be sure to download the preview file to understand better what is contained in this resource. Thanks!
Go to your My Purchases page. Beside each purchase, you'll see a Leave a Review button. Simply click it and you will be taken to a page where you can give a quick rating and leave a short comment on the product.
Each time you give feedback, TPT gives you feedback credits that you use to lower the cost of your future purchases.
Feedback is greatly appreciated, and helps sellers create better resources!
***********************************************************************************
Be sure to click on the green ★ to follow me for updates and announcements of new resources!
***********************************************************************************
Designed by Sally of . elementarymatters@gmail.com
♦ If you like what you see here, see my social media .
Teaching Duration
1 month
Report this resource to TPT
Standards
to see state-specific standards (only available in the US).
Write opinion pieces in which they introduce the topic or book they are writing about, state an opinion, supply reasons that support the opinion, use linking words (e.g., because, and, also) to connect opinion and reasons, and provide a concluding statement or section.
Write informative/explanatory texts in which they introduce a topic, use facts and definitions to develop points, and provide a concluding statement or section.
With guidance and support from adults and peers, focus on a topic and strengthen writing as needed by revising and editing.
Write opinion pieces on topics or texts, supporting a point of view with reasons.
Write informative/explanatory texts to examine a topic and convey ideas and information clearly.