Middle, High School Art, Technology Project: GIF Lesson Using Canva, Pixlr, PSD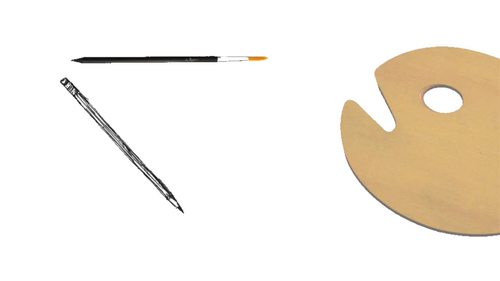 ;
5

th

- 12

th
,
Higher Education
,
Adult Education
Also included in
Teach your middle or high school art students about digital design and graphic design using these 6 Canva projects. These lessons can be taught even if you have zero experience with the program, Canva. Canva is a free, online program, perfect for an art class on a budget or Chromebooks. These 6 Canv

Price $35.00

Original Price $43.00

Save $8.00
Description
This middle or high school art drawing project focuses on combining traditional drawing techniques with digital manipulation and technology in order to create a GIF. A perfect lesson to connect art and technology with middle school art and high school art students. Using free programs Canva and Pixlr with Photoshop options, anyone can teach this project.
GIFs are not new technology, but they are as popular as ever, especially on social media. Help students see the connection between art and technology and present an assignment that the students might already have a connection to.
This project not only helps emphasize basic drawing and digital editing techniques, but also introduces students to the history of animation and the role technology has played in the art world.
All in all this lesson pack includes:
➢A lesson plan (with a big idea, objectives, vocabulary, national middle and high school art standards, and step by step instructions on implementing the project)
➢PowerPoint to introduce the assignment with project examples
➢PowerPoint to go into the specifics of how to upload and edit drawings
➢Image editing how-to handout for Photoshop and Pixlr
➢GIF how to handout
➢Critique sheet
➢Emoji critique labels
➢Emoji critique guide
➢Rubric
This lesson is part of my semester-long drawing curriculum bundle. Get everything you need to teach an entire semester of drawing, 12 lessons in all, for a discounted price. Check it out here. 
Each of my classes is designed to build on the last. This curriculum builds on the lessons and techniques taught in my Introduction to Art course. Check out my yearlong Introduction to Art curriculum bundled at a discount price here.
Check out my drawing scratchboard assignment here.
Check out my social and political-themed drawing assignment here.
Check out my metaphorical self-portrait drawing lesson here.
Check out my introduction to charcoal drawing lesson plan here.
Check out my still-life drawing assignment here.
Check out my shading review lesson plan here.
Check out my hand drawn elements of art worksheet, value, here.
Check out my digitally designed elements of art worksheet, value, here.
Check out my other products here.
Report this resource to TPT